Salvia microphylla 'Angel Wings'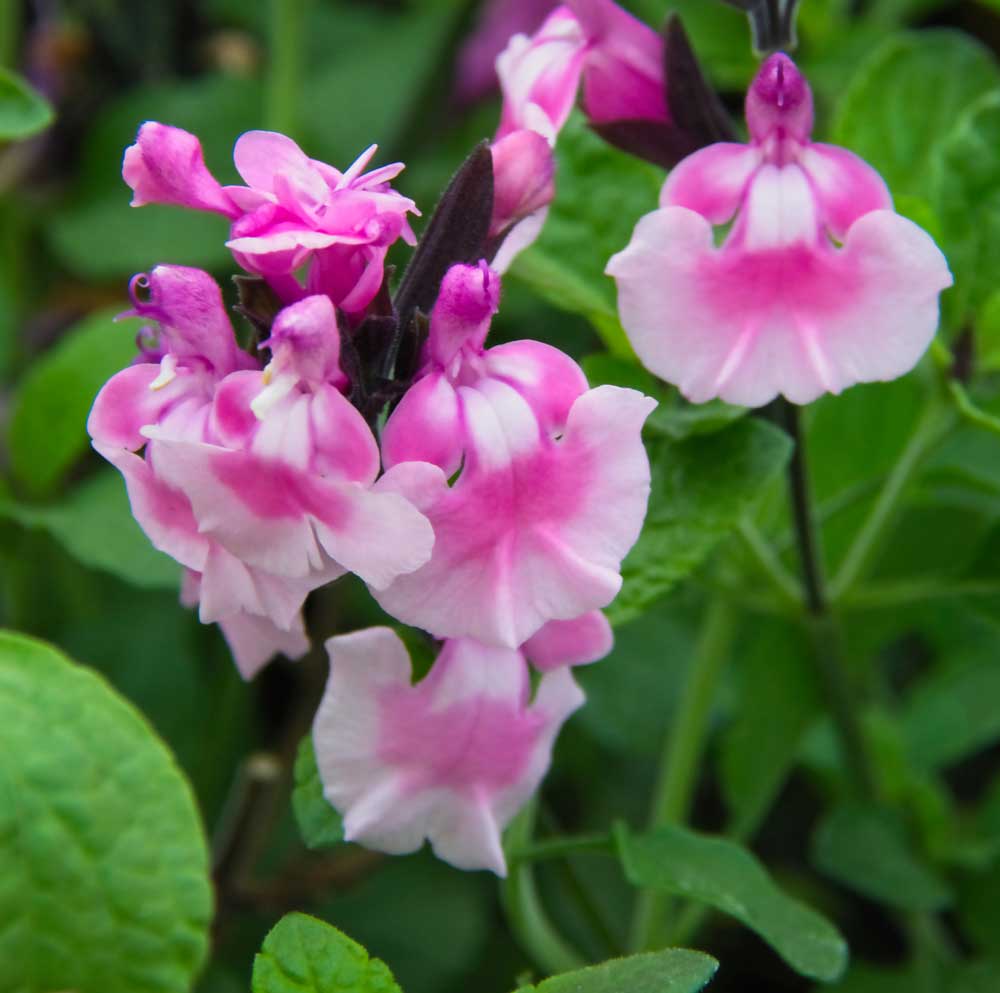 Salvia microphylla 'Angel Wings'
This is a medium growing perennial reaching 80cm high and wide. It has dark green slightly rounded, but still elliptical shaped leaves and a typical 'microphylla' appearance.
The flowers are a delicate two toned pink reminiscent of a pretty little girls dress. The pink blush on the lowers lobes looks like it has just been softly brushed on to the pale background in a random fashion. The stems darken towards the top and the calyces darken to a brownish pink tone. The flowering period is very early and the advanced of all Salvias in this group … from late spring to the end of the summer.
Salvia 'Angels Wings' is an Australian hybrid from Queensland. According to growers in Australia it is a good performer in the garden and is both drought and frost hardy. Pruning may take place after flowering and take the form of a gentle tidy up or the removal of half of the height. It will do well in full sun to part shade, with well drained soils and average water supply.
NWP discovered this variety during its travels and has since legitimately shipped this plant in 2018 and from our initial trials in 2019 looks to be a 'MUST HAVE PLANT' for 2021.
We are the only ones to have stock and we highly recommend this variety being both pretty but also due to its very early flowering.!
Interested let us know ?
If you selected this 'Scoop' you are probably looking for the next big thing in plant sales.
We would urge you to keep returning to the 'Scoops Category Plants on Test' and also view the 'Gallery Plants on Test' on a regular basis.
You never know, we may have just what you've been looking for!
View Scoops by Categories
New World Plants Ltd.
White Cottage
Main Street
Styrrup
South Yorkshire
DN11 8NB - UK
Please note we are solely a wholesale supplier and regret that we can only respond to trade enquiries.
PLANT BREEDING AND DEVELOPMENT
Phone: (+44) (0) 1568 611521
email: plant.information@new-worldplants.com
YOUNG PLANT SALES & TC SUPPLY
Phone: (+31) 6 53588940
email: stephen@walterblom.nl