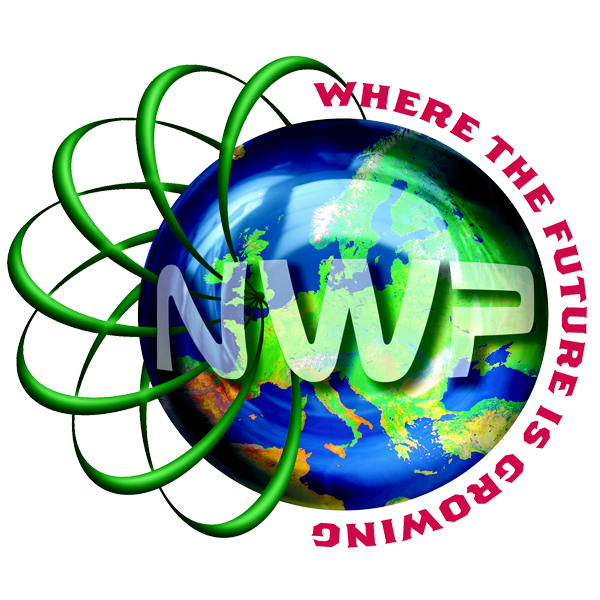 This group of plants is undoubtedly one of the world's most popular and fascinating genera, Salvia 'Amistad' being the best-selling favourite that we have exclusively introduced! Every year we offer a selection of new hybrids that are often an improvement on older varieties or totally different than what has been seen before. It's important that we provide a range of colours that have instant appeal to the consumer but also plants that grow well in commerce. In our ever-growing collection there are lots of nice garden plants but often they don't lend themselves to container production and so are subsequently taken out. Keep an eye here for new releases as we are not short of new varieties yet!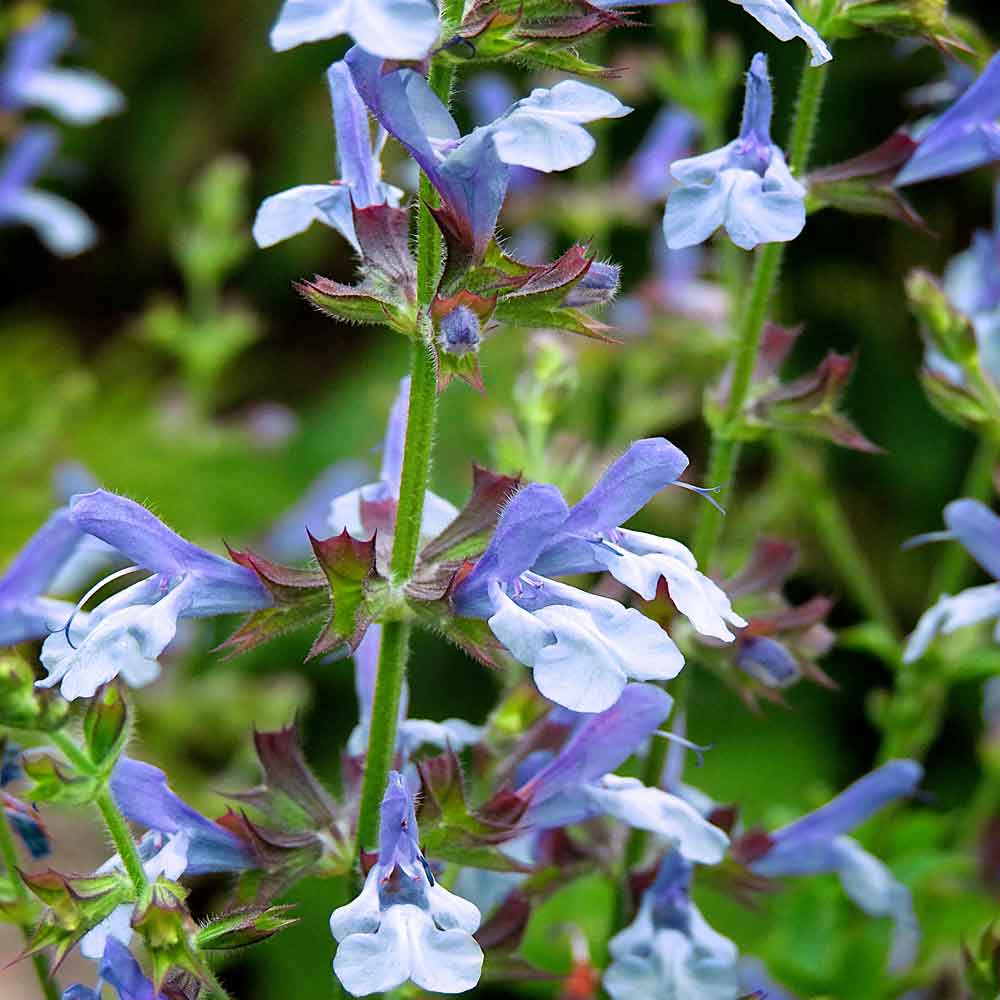 Salvia African Sky
An NWP introduction into the UK.
Unusual leathery foliage which is scented with open mouthed pale blue flowers
Needs a dry soil in a sheltered sunny spot to thrive especially in winter months plus some protection in severe winters. 60cm x 50cm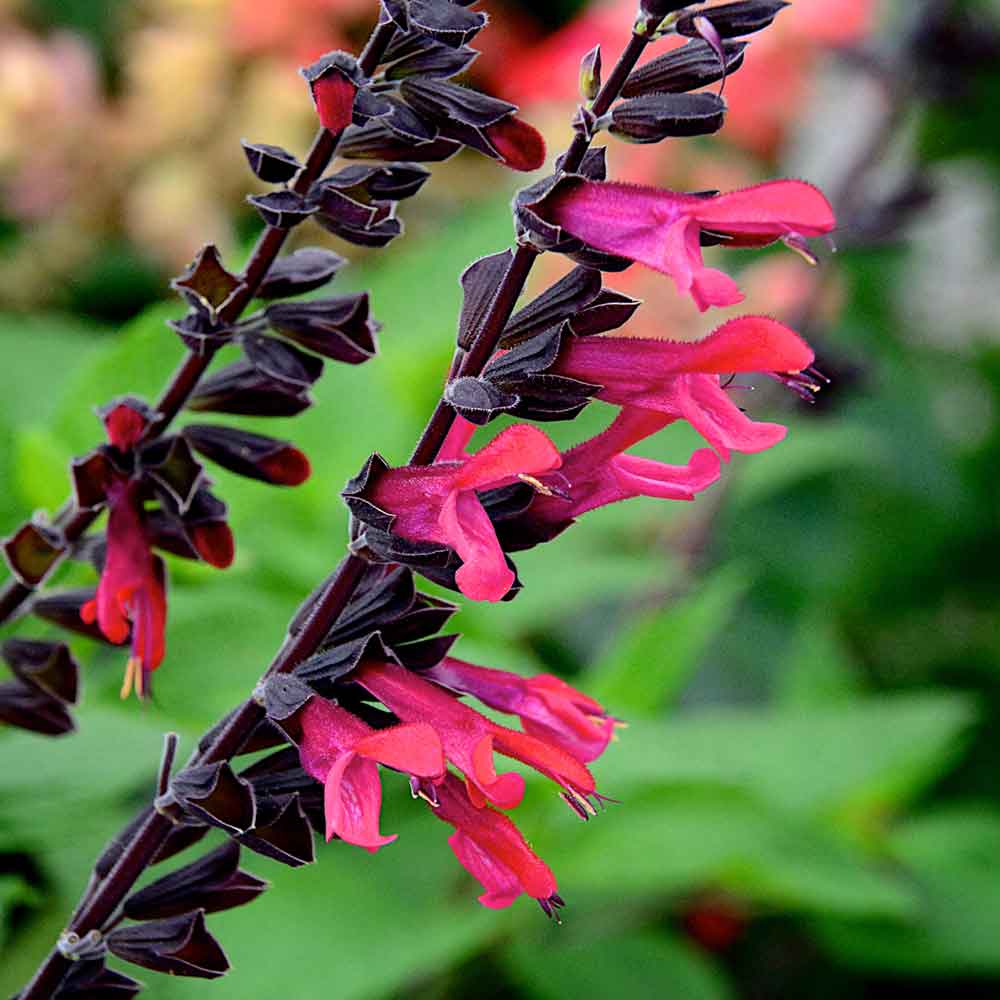 Salvia Amante
PBR EU 59266 – US Patent PP31104
An NWP introduction.
A follow on from 'Amistad', and we hope will follow in its footsteps but unique having the first red flower pigmentation. An equally tall plant that flowers late summer with numerous Fuchsia pink flowers and a dark calyx.
Prefers a dry sunny location with a well-drained soil. Will go dormant in winter. 1.2m x 90cm.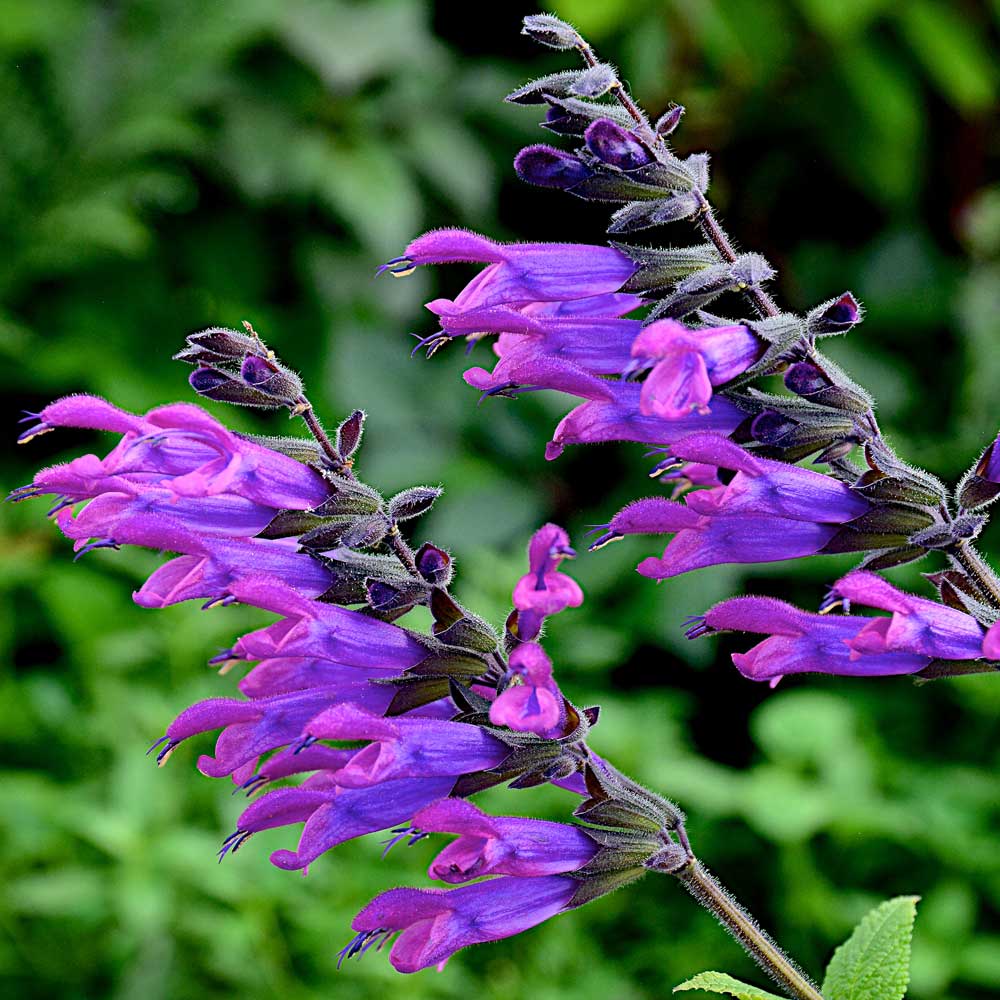 Salvia Amigo
An NWP introduction.
A brand-new sister to the much-loved 'Amistad'with a different colour flowers. A towering plant with purple indigo flowers and a dark calyx.
Flowering late summer until first frosts. 1.2m x 90cm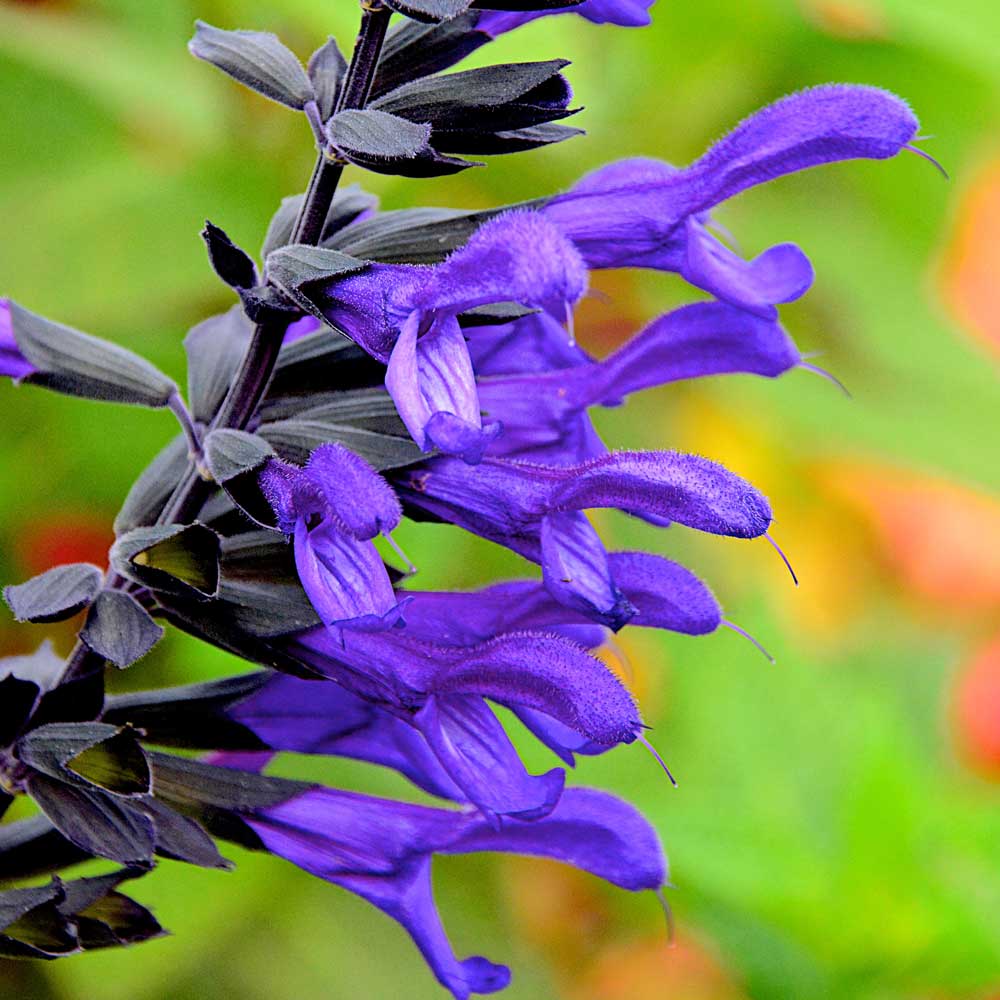 Salvia Amistad
PBR EU 35867 - US Patent: PP23578
An NWP introduction.
The most spectacular Salvia todate by far.
Gorgeous deep velvety purple flowers emerging from almost black calyx. Sterile, free flowering and much earlier than the 'look-alikes'.
Cold tolerant to -8oC so far! 1.2m x 90cm.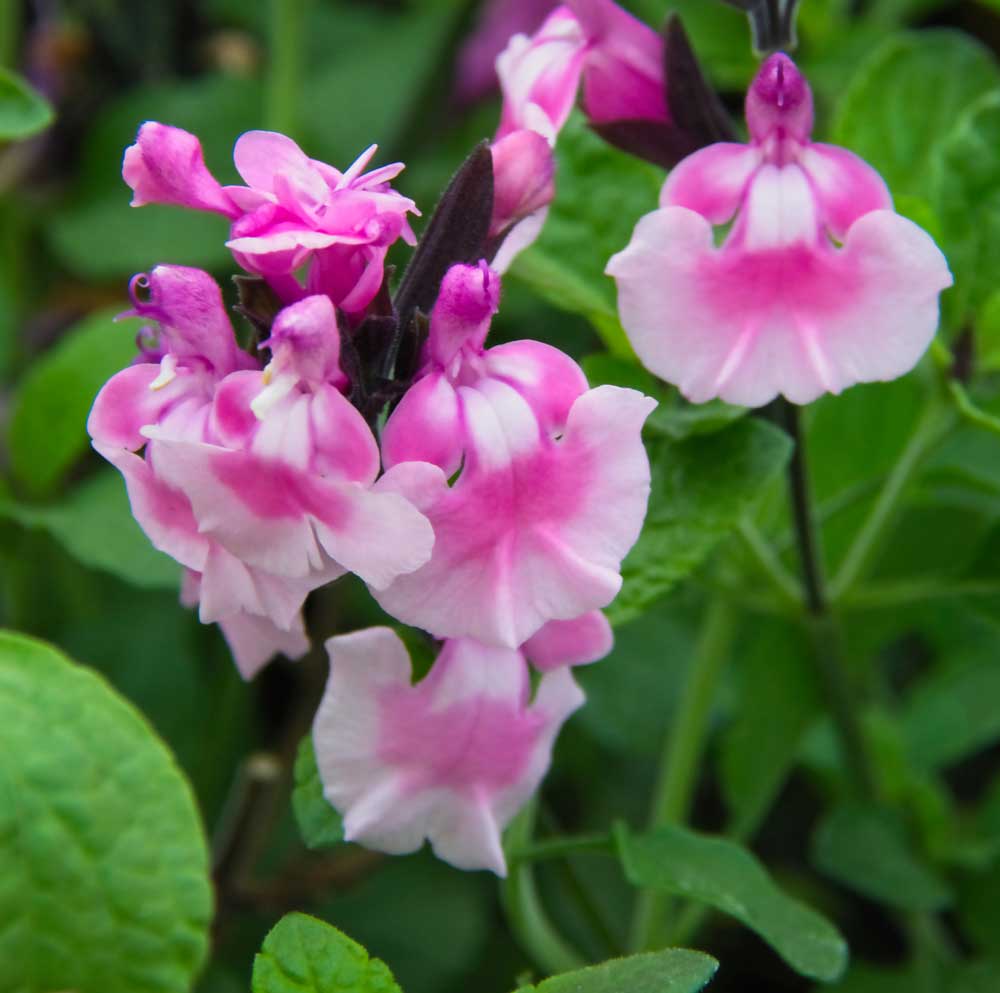 Salvia Angel Wings
An NWP introduction.
A most promising and cheerful new Salvia from Australia. Flowers are a delicate two toned pink reminiscent of a pretty little girls dress. The pink blush on the lowers lobes looks like it has just been softly brushed on to the pale background in a random fashion. It's the first variety to flower in the year and one of the last as well. Hardy so far including in a patio pot. 75cm x 60cm.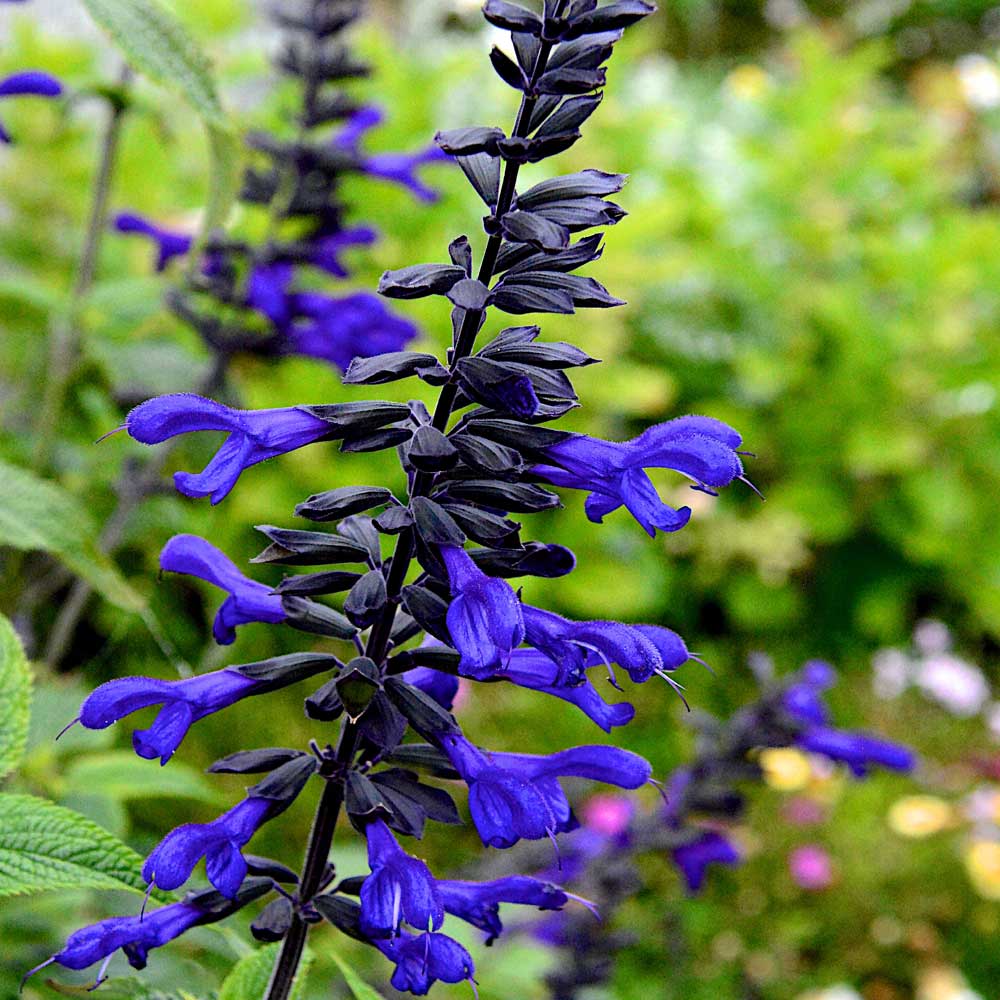 Salvia Animo
An NWP introduction.
Our latest hybrid which we are very proud of. This is an outstanding colour form with a deep royal blue rack of flowers having an even darker calyx than 'Amistad'.
Very regal and showy a must to include in most borders or large pots. 1.2m x 90cm.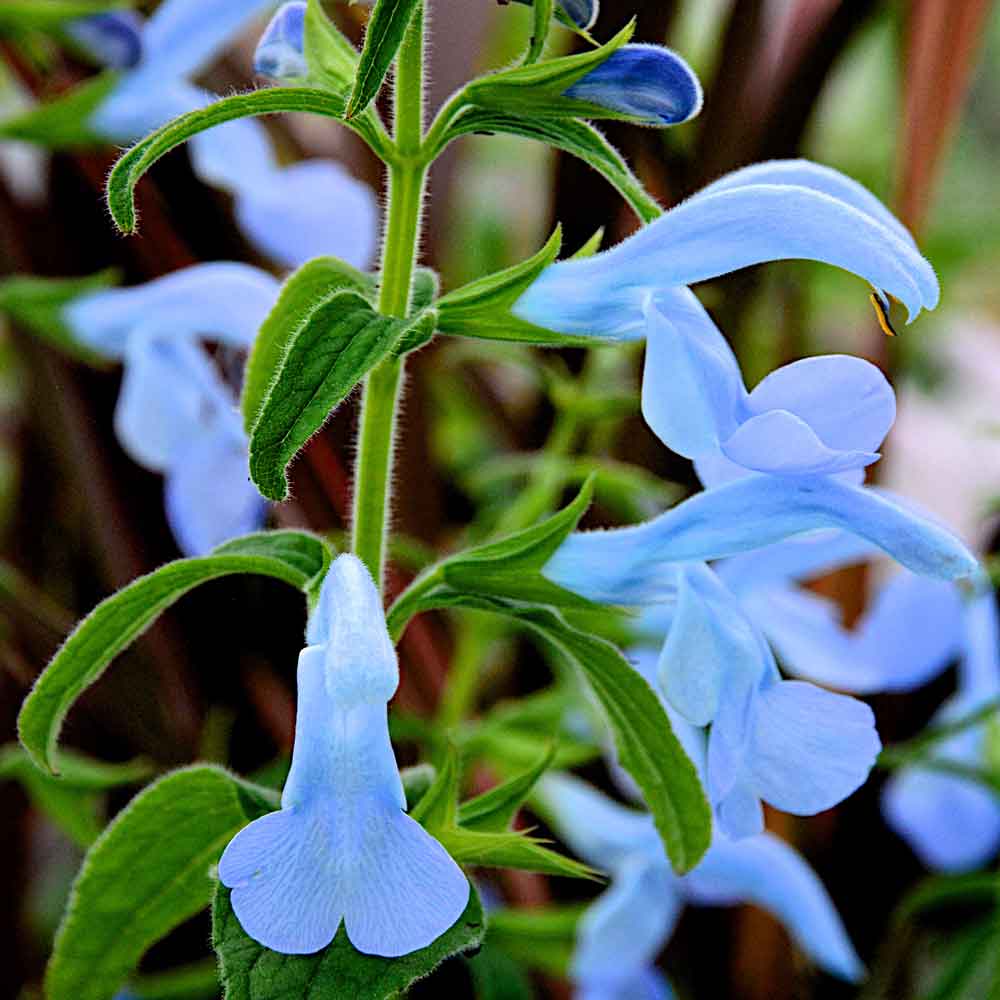 Salvia Beyond Blue
Patent applied for.
An NWP hybrid.
Another real winner we have selected from the patens spp. This hybrid is so special in having a very compact habit and is self-branching. Leaves are bold & triangular shaped with very large clear ice blue flowers that go on to first frosts.
A great patio plant, that goes dormant in winter and will re generate from a tuber if given a light mulch over for protection. 50 cm x 50cm.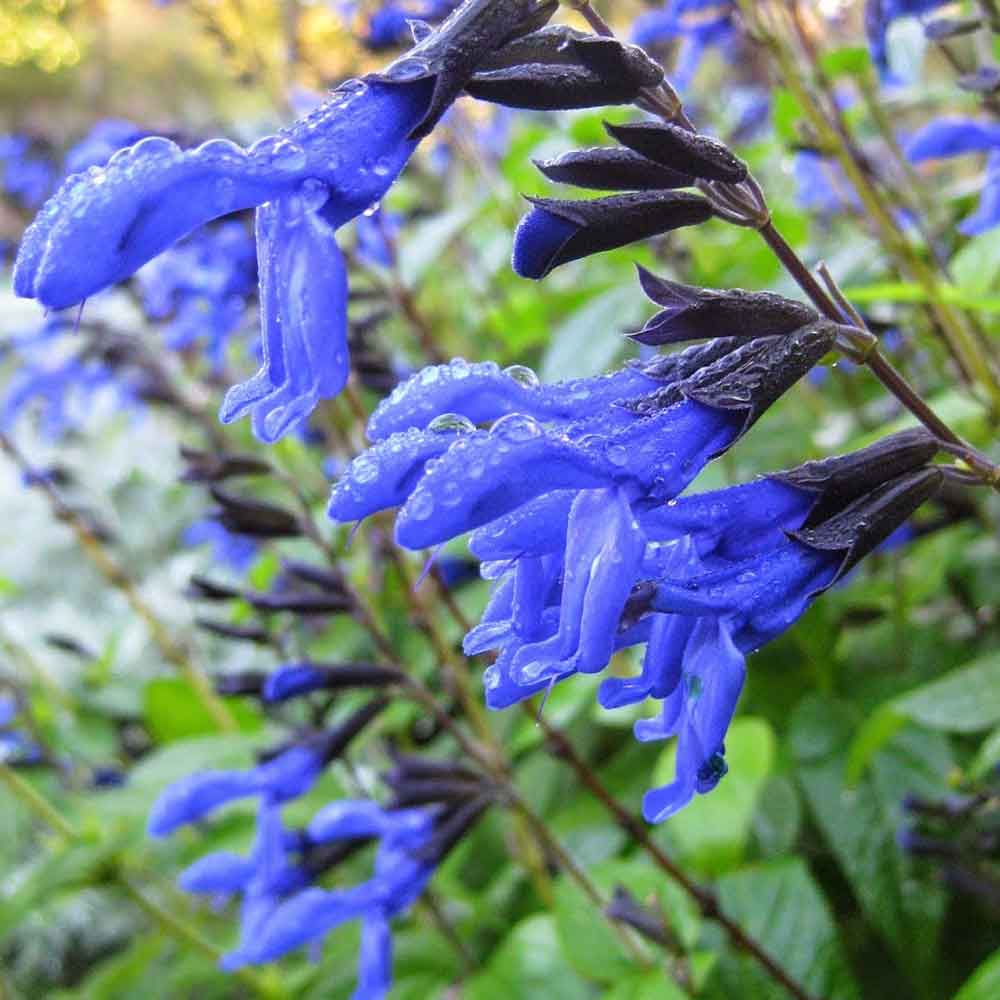 Salvia Black and Blue
This older hybrid has had a new lease of life after the successful introduction of Amistad.
It is however inferior to 'Amistad' as it is not sterile and has a blue colour tone rather than the rich Purple its competitor has. When compared side by side it is a very different plant and flowers slightly later. 1.2m x 75cm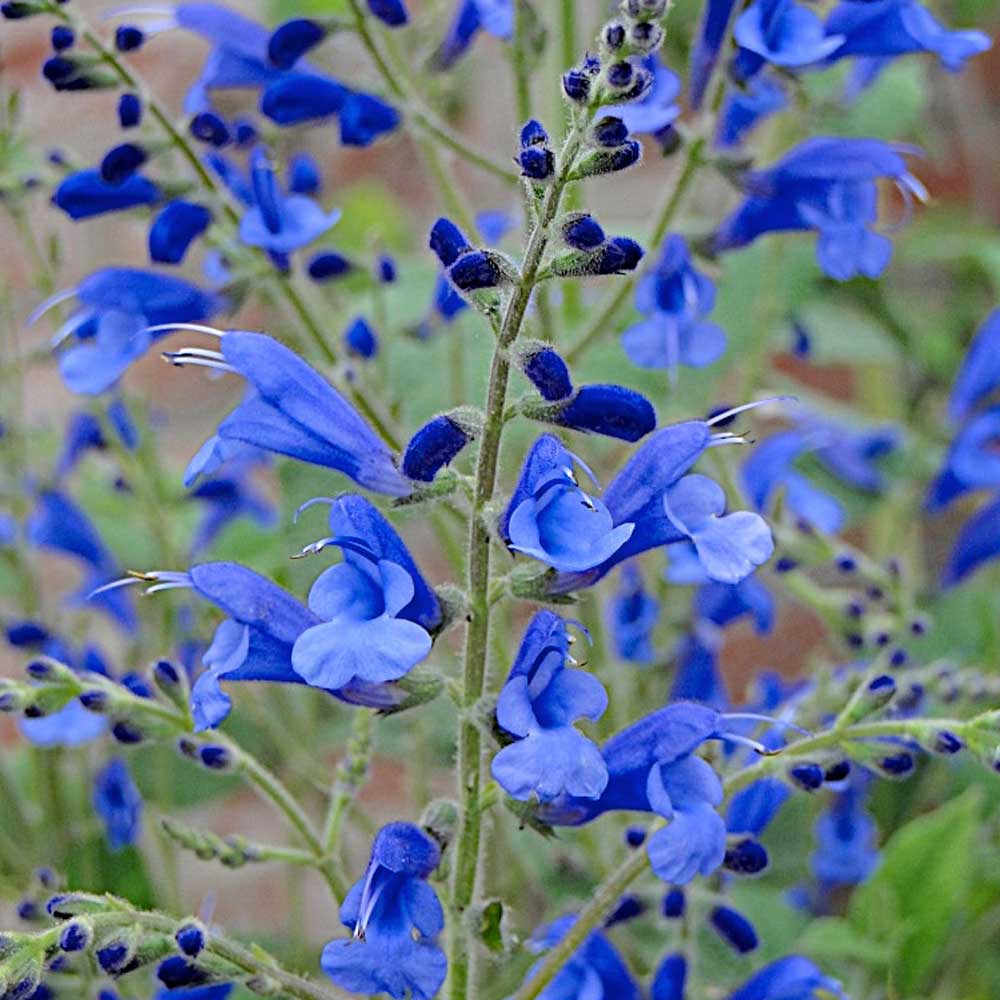 Salvia Blue Butterflies
An NWP introduction.
This is a very different Salvia in every respect to what is seen in the commercial market. This was a deliberate cross between two species which has resulted in this very pretty hybrid. It is a tall flowering plant with trailing branches that benefits from a little support (but not essential), leaves are large and triangular shaped. Flowers are vivid gentian blue, from mid-summer onwards.
Needs protection over winter. 1.2m x 90cm.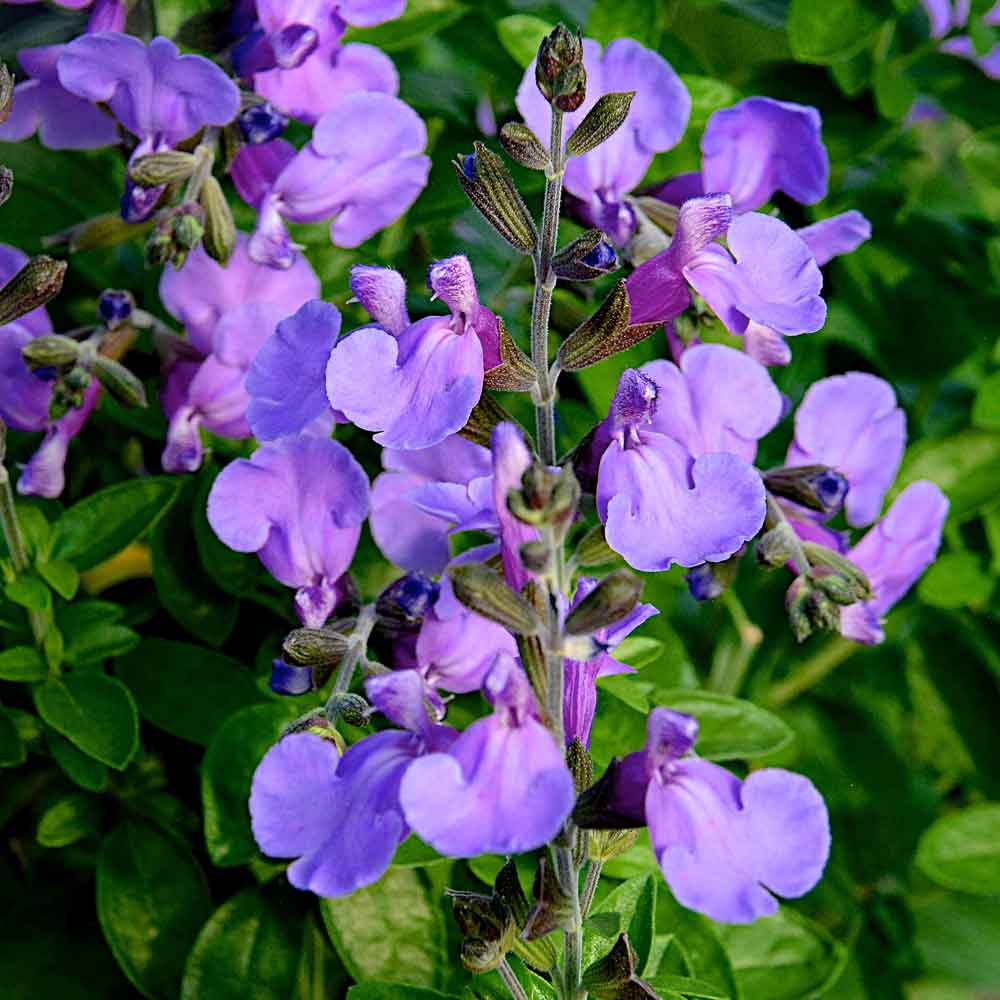 Salvia Blue Merced
A wonderful Salvia with unusually large rounded flowers deep lilac mauve in colour. Quite a striking plant because of the bloom size and colour.
Good for mixing with silver foliage plants and also in pots for patio displays. 55 cm x 45cm.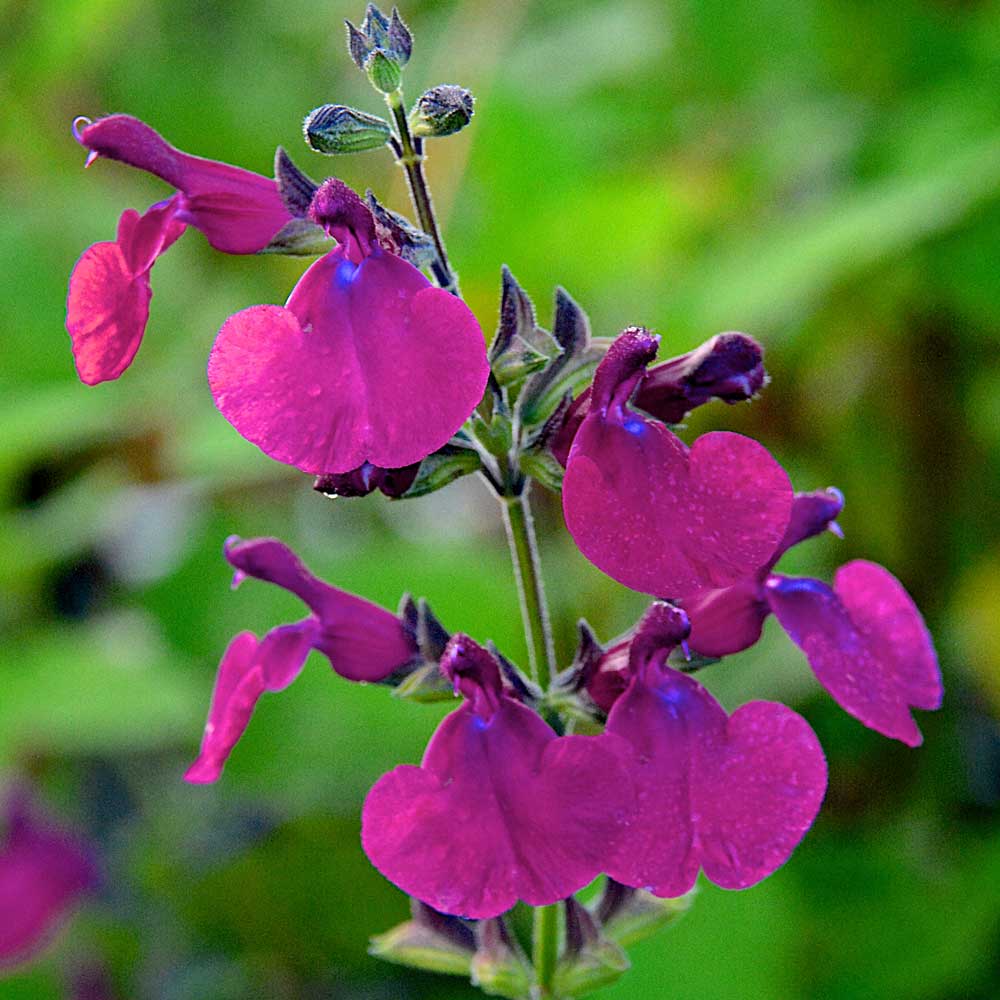 Salvia Cherry Pie
An NWP introduction.
Gorgeous colour that makes this an appealing plant.
Deep cherry purple flowers with dark green veined leaves. 50cm x 40cm.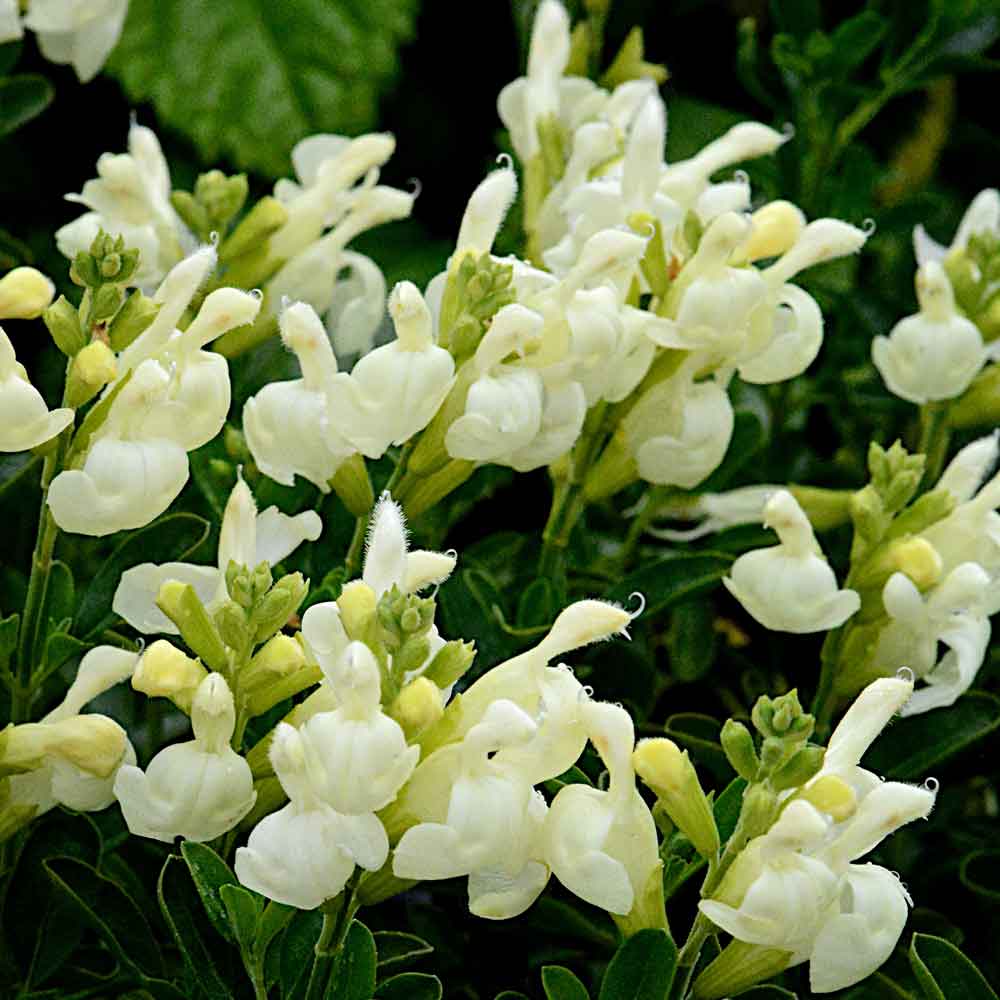 Salvia Clotted Cream
An NWP introduction.
A compact plant which seems less brittle and is very attractive.
Rich creamy flowers that fit the name. 50cm x 40cm.
New World Plants Ltd.
White Cottage
Main Street
Styrrup
South Yorkshire
DN11 8NB - UK
Please note we are solely a wholesale supplier and regret that we can only respond to trade enquiries.
PLANT BREEDING AND DEVELOPMENT
Phone: (+44) (0) 1568 611521
email: plant.information@new-worldplants.com
YOUNG PLANT SALES & TC SUPPLY
Phone: (+31) 6 53588940
email: stephen@walterblom.nl