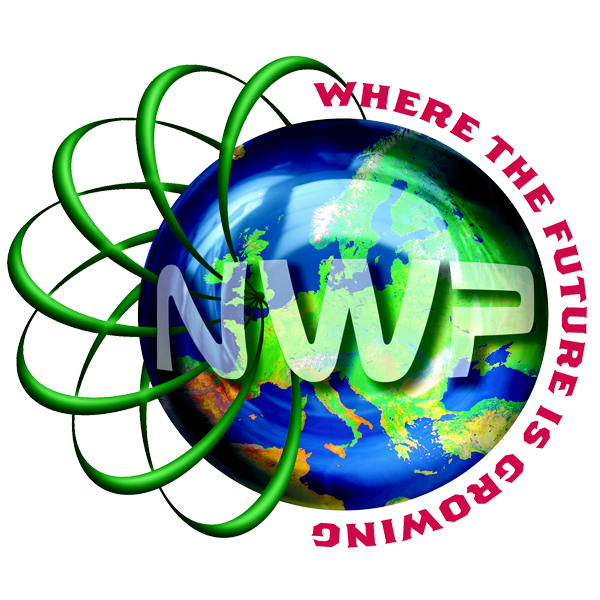 This group of plants are highly irresistible and becoming increasingly popular but also a high value plant for sales. NWP has been making numerous selections from its own breeding and more recently working with other breeders to provide an even more exciting range for the future. We have a number of new hybrids in tissue culture which we hope to release in the next few years so please re visit this site to see the new additions!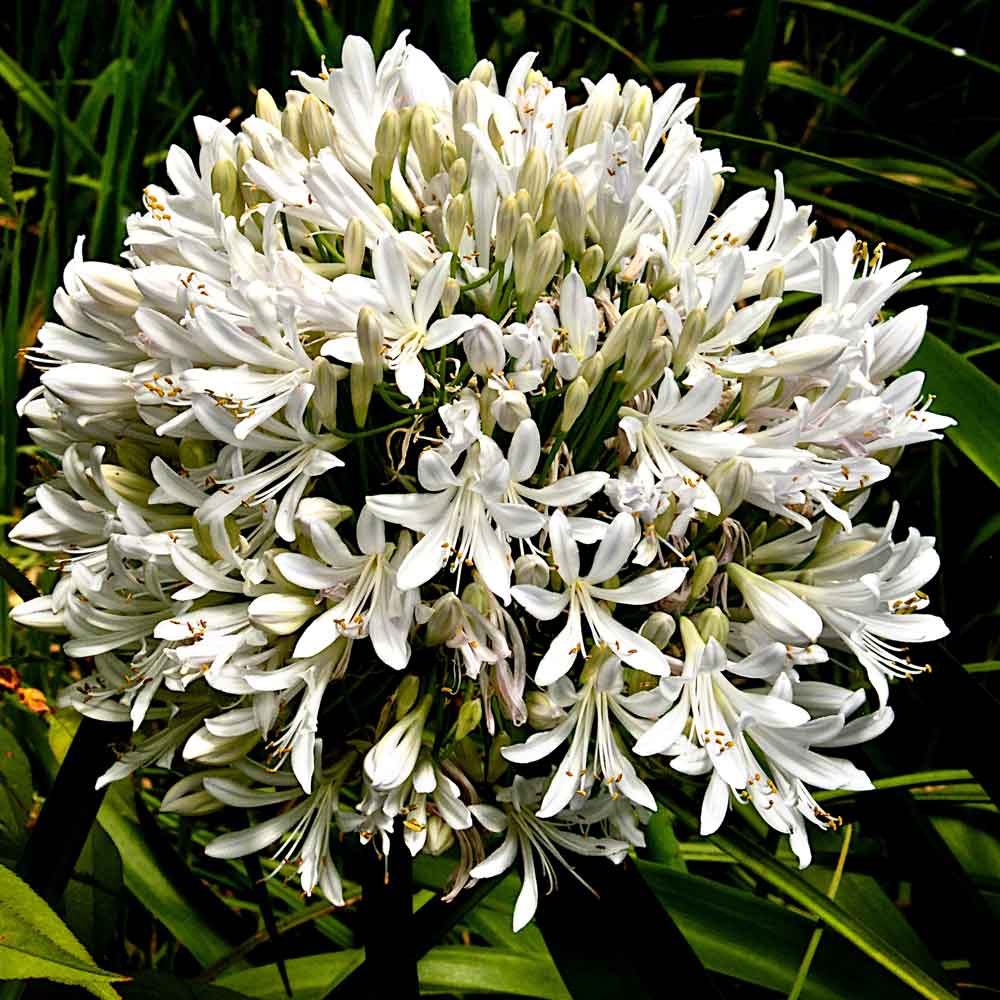 Agapanthus Best in Show
A very new hybrid that is around 75cm tall and a real prize winner for any garden display.
Flower heads are so numerous that open to make a massive round ball and has the guts of any super pant that ought to appear in any flower show.
Thick semi evergreen leaves that needs some extra protection in winter with mulch.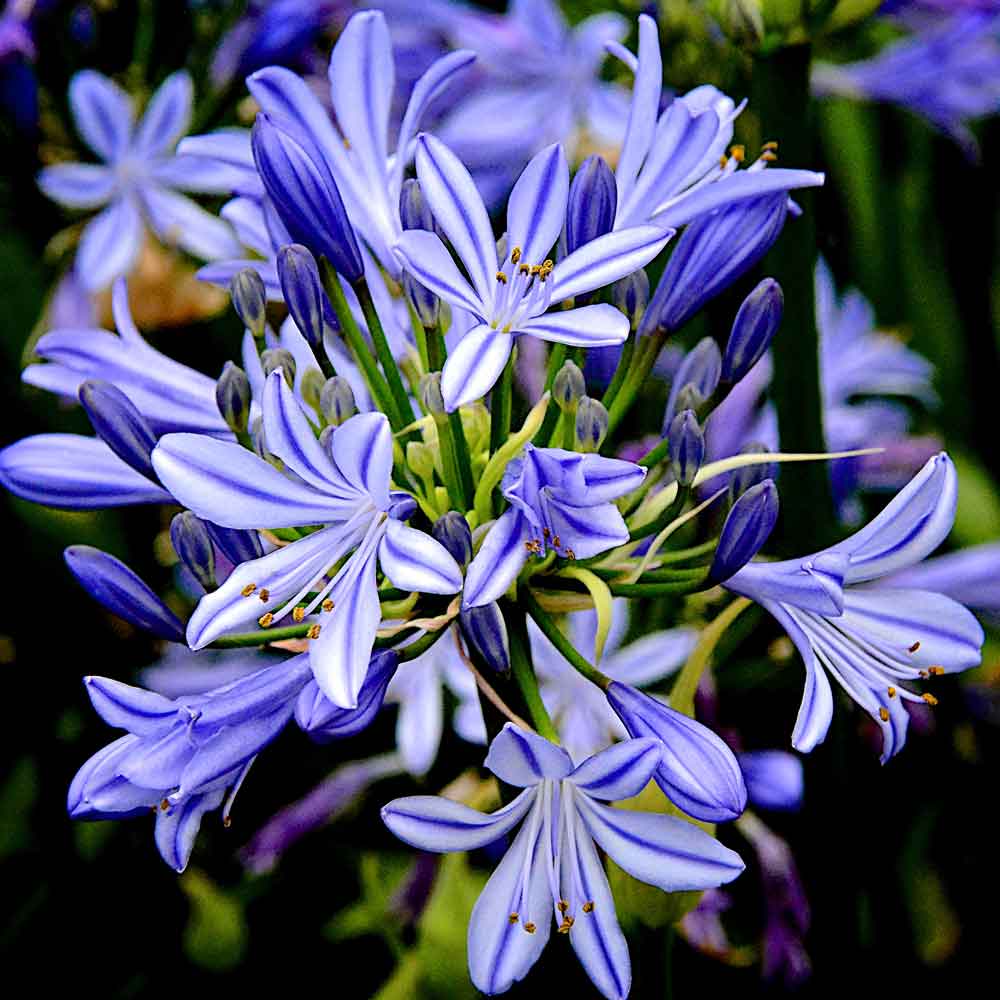 Agapanthus Charlotte
PBR 20851
A very pretty dwarf hybrid around 30cm tall just perfect for pot work!
Reliably flowers on short stems with clusters of starry blue flowers that are paler inside with a contrasting stripe.
Deciduous variety that is hardy and virtually sterile a must for pot production.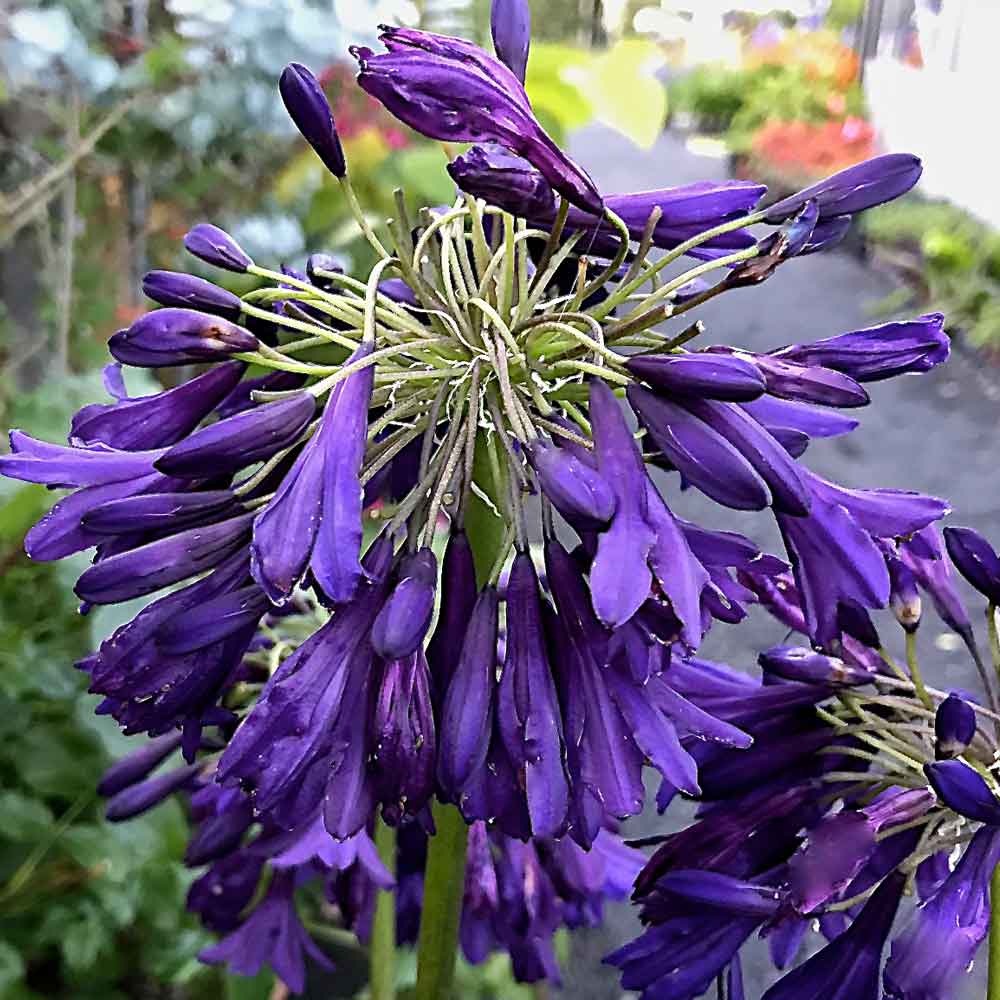 Agapanthus Darkest of All
A new NWP hybrid that is around 75cm tall and has the overall appearance of being superbly purple.
Numerous flowers forming a cluster on the top of strong stems that are pendulous in habit when open and remain more closed having a tubular habit.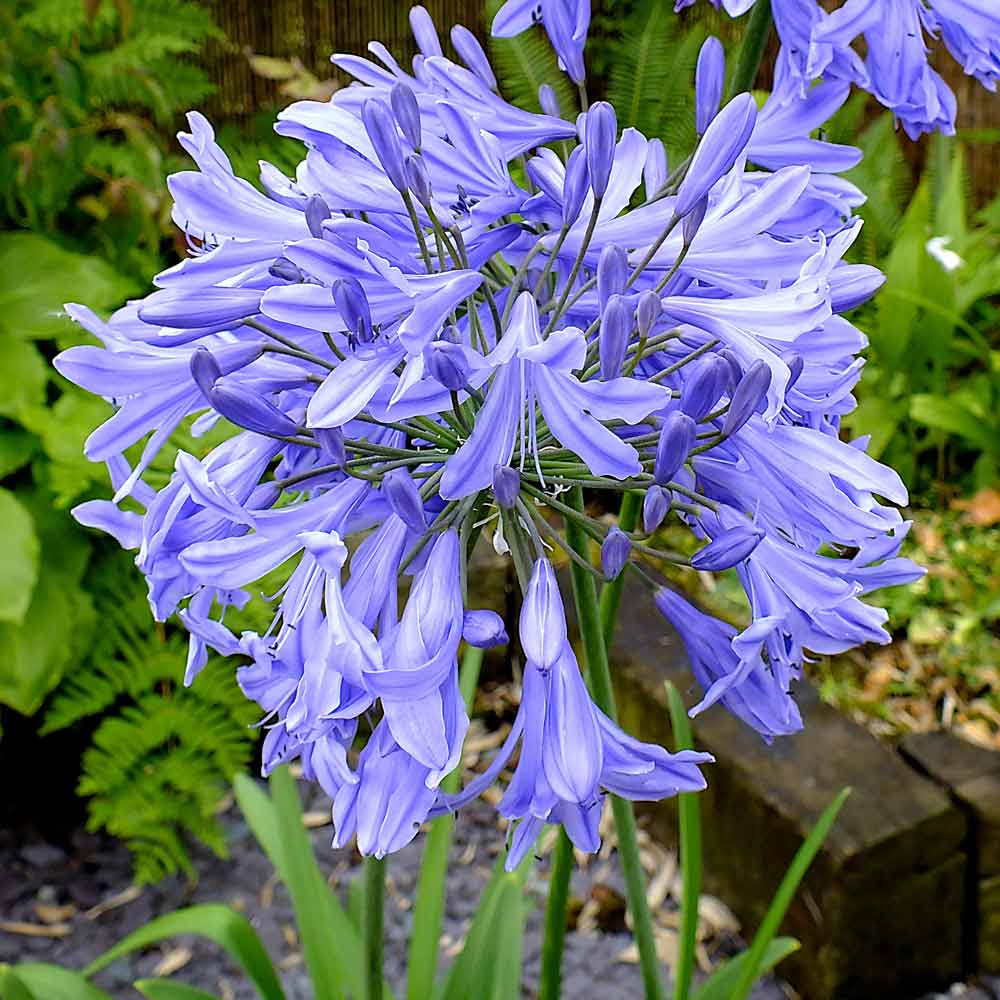 Agapanthus Delft Blue
An NWP hybrid. Dazzling displays that stops you in your tracks!
Mutliflowered head of large striped flowers on stems around 75cm.
Around 40 + individual flowers with a shade of blue similar to Delft pottery with a deeper stripe in the center.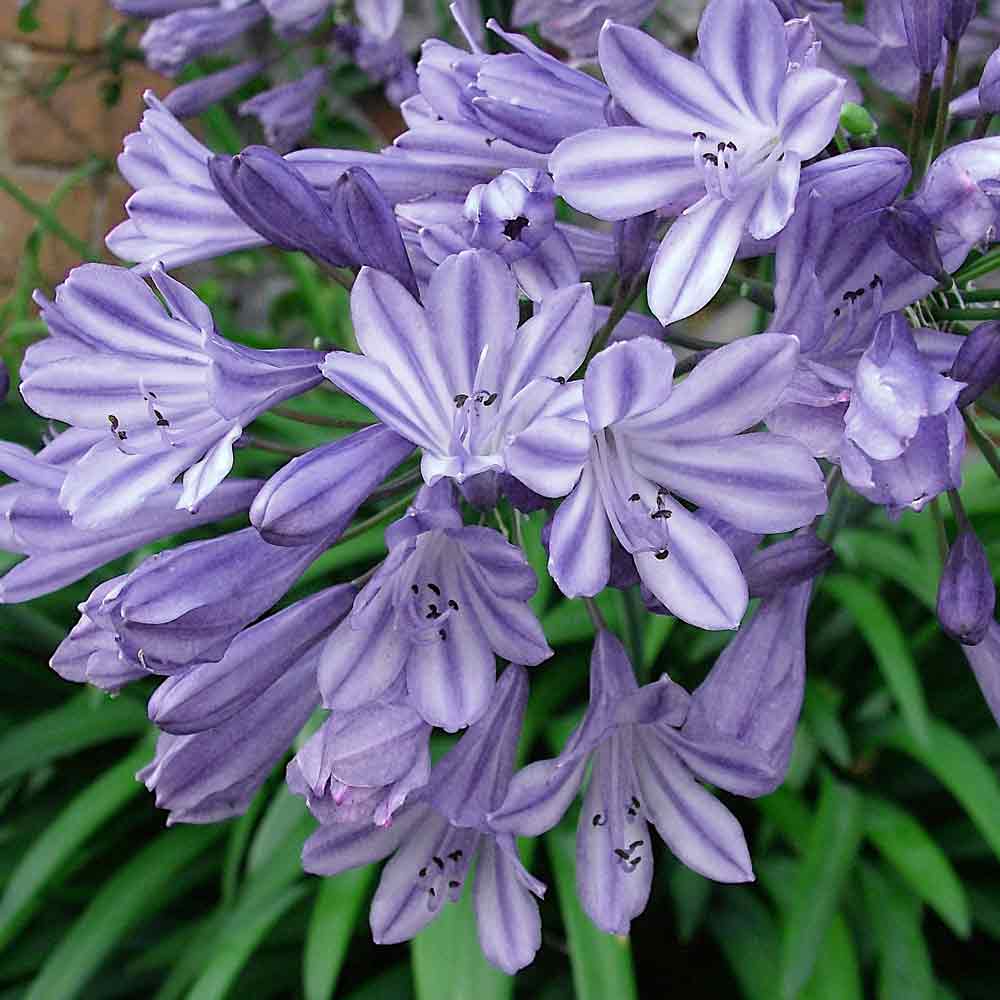 Agapanthus Ethel's Joy
A compact variety that's rarely seen and great for pots.
Numerous flower spikes around 50cm with many flowers of a pale violet blue having a deeper stripe in the center.
Flowers earlier than most.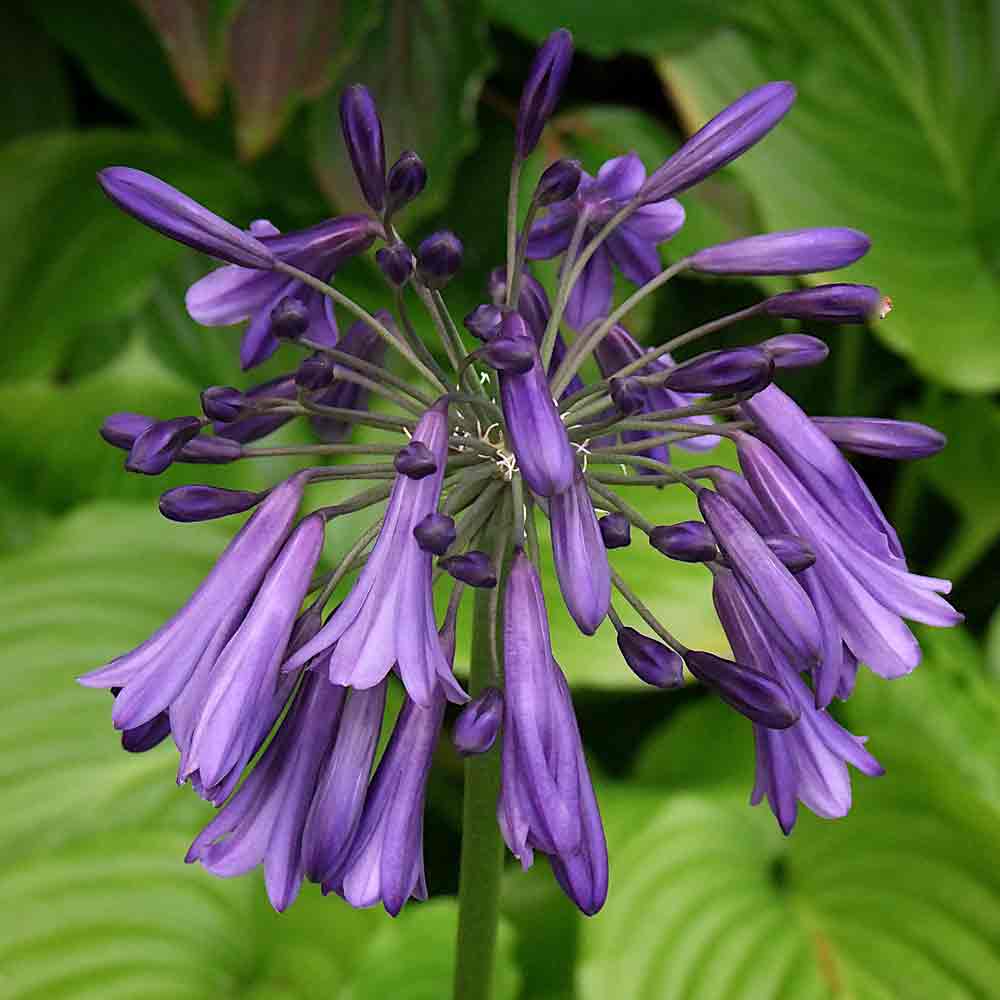 Agapanthus Evening Eclipse
An NWP hybrid with strong upright habit for bold displays at the back of borders or in large pots.
Towering stems around 1.25m carry large heads of dark ink blue flowers in bud which open into tubular flowers of a lighter blue with mauve stripe.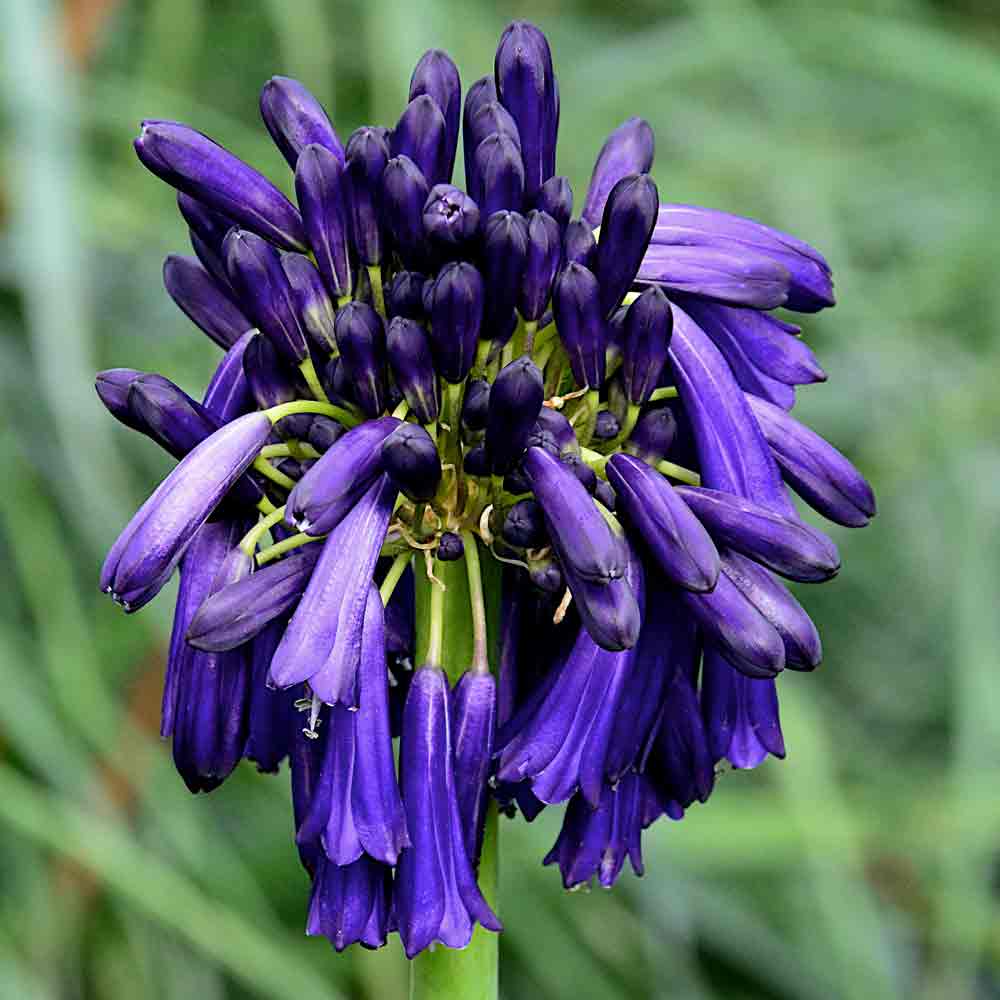 Agapanthus Graskop
A plant we first saw in the Kirstenbosch gardens that had such a dramatic impact on us.
50cm stems carrying the richest and darkest ink blue flowers that hang in a pendulous fashion.
When planted in large groups they create a spectacular display.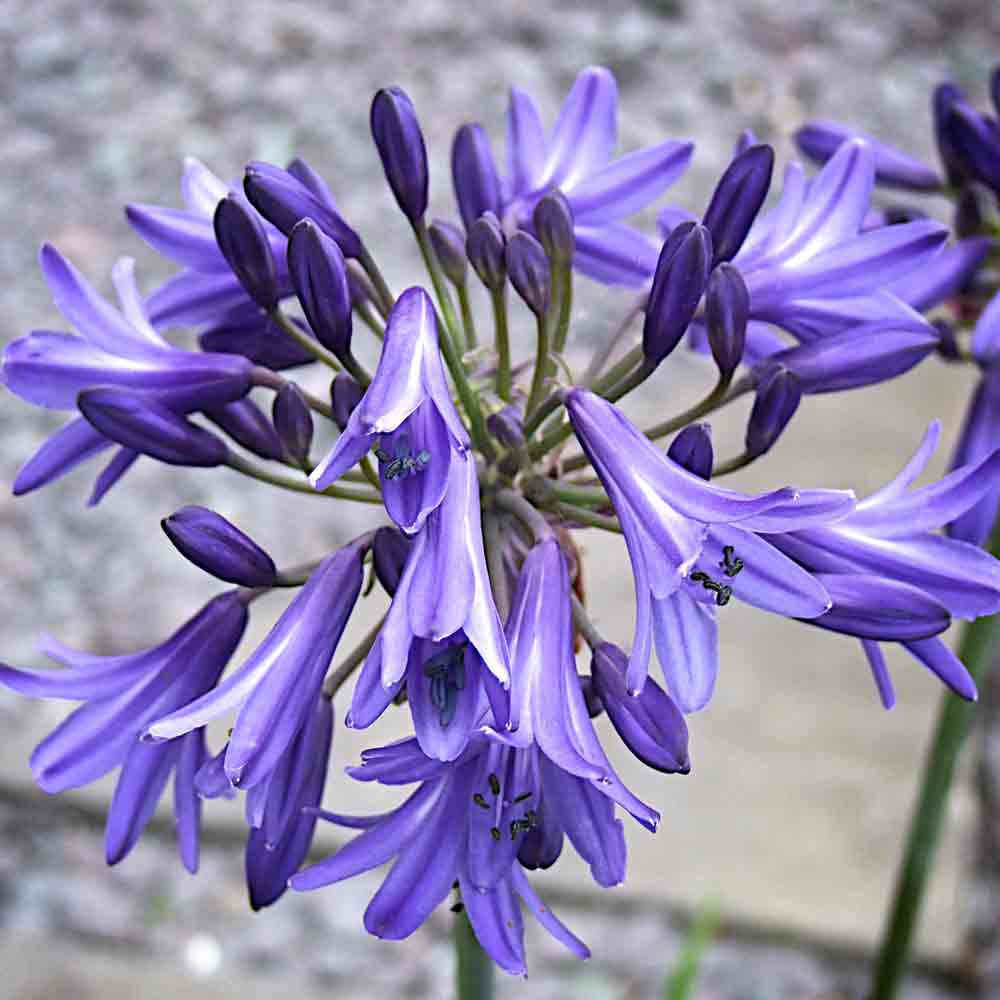 Agapanthus His Majesty
An NWP hybrid with a rich royal blue and purple overtones on 60cm stems.
A nice plant for pot work and seems very classy in its own right being so rich in colour.
Flowers reliably and suitable for pots and small borders.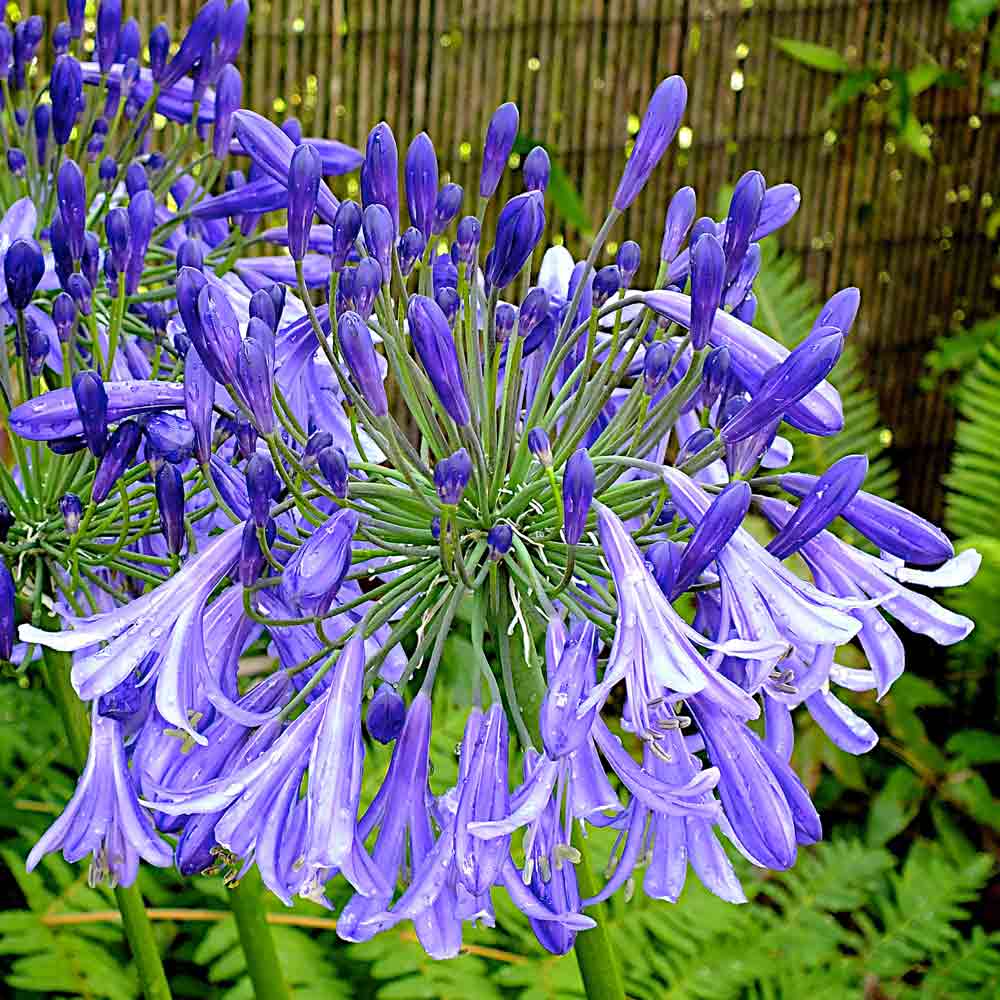 Agapanthus Jacks Blue
A great garden hybrid creating a spectacular cluster of large blue flower heads!
Strong stems around 75cm tall (taller in good soil). Around 40- 50 individual flowers, ink blue in bud opening to pale blue with dark stripes.
Hardy plant when planted out.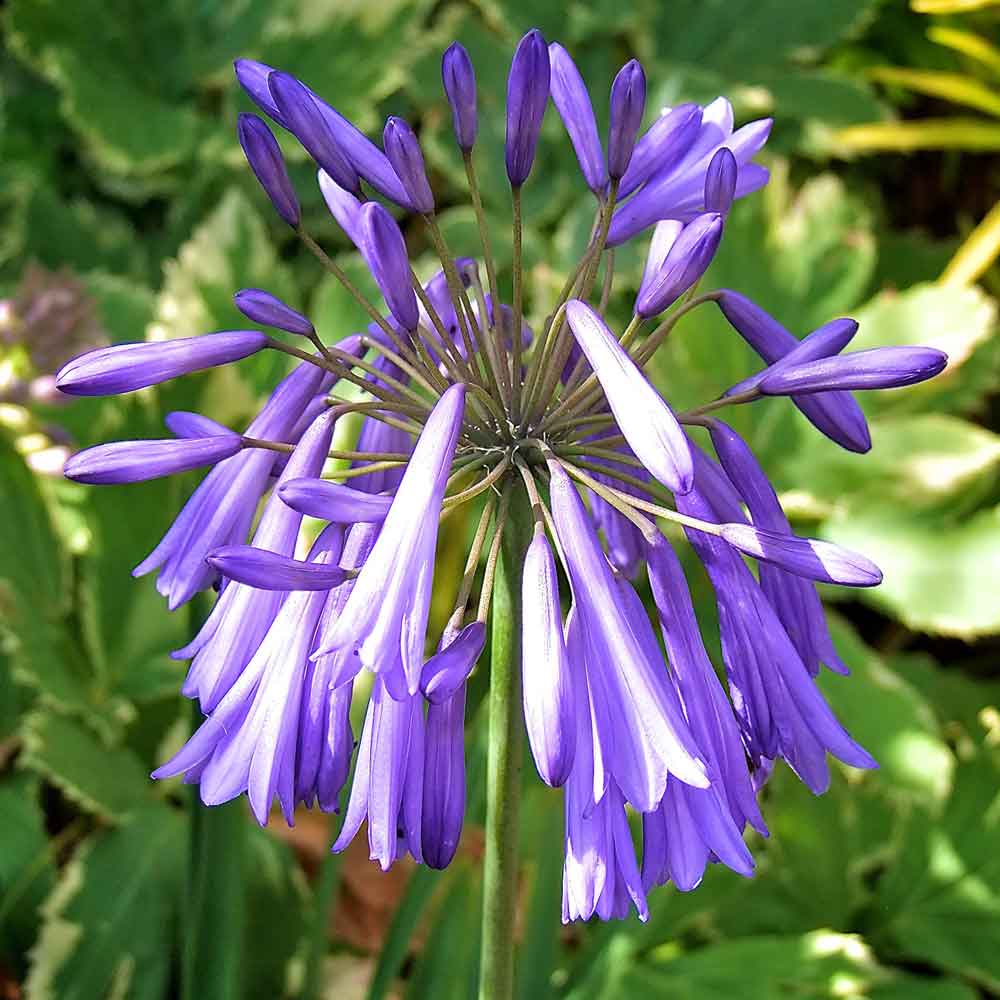 Agapanthus Lilac Lullaby
An NWP hybrid with 60+cm stems holding numerous tubular flowers of lilac.
Flowers darker in bud and fading to a softer shade when open.
Very pretty plant that makes an impact in groups.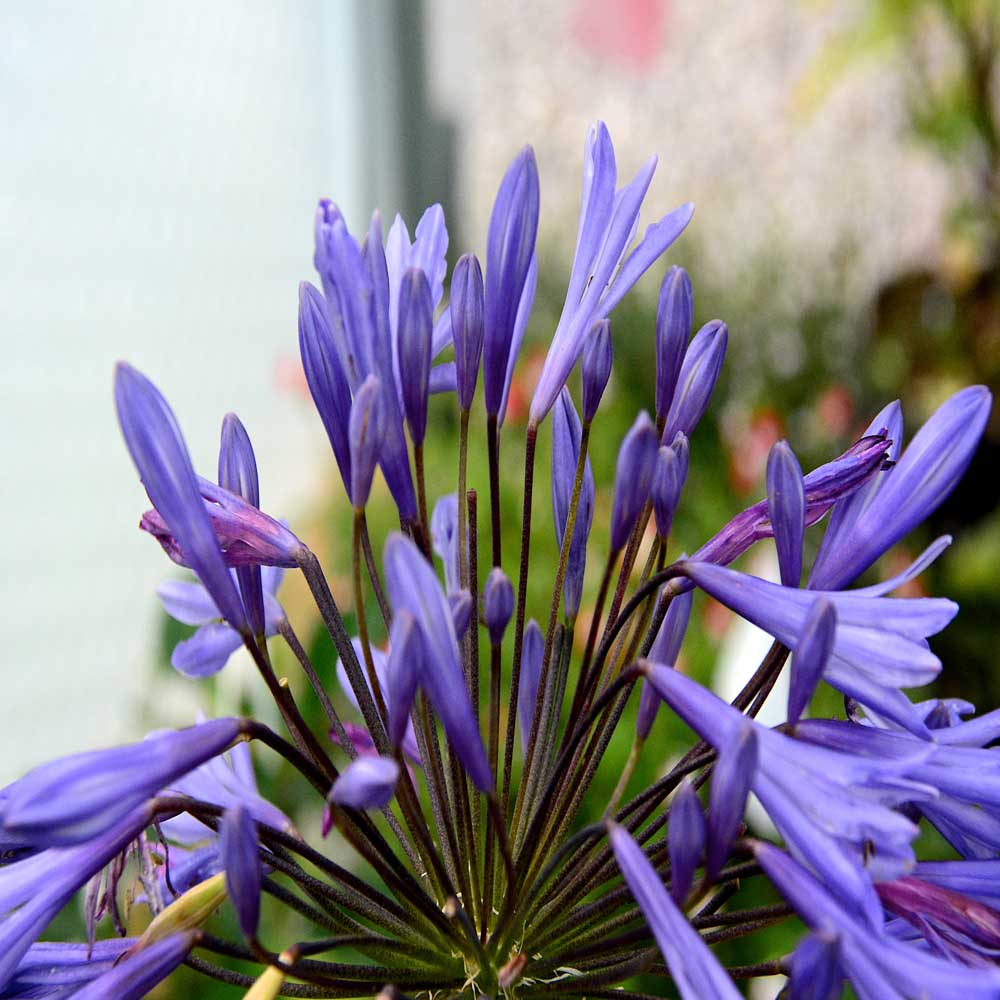 Agapanthus Lilac Wonder
An NWP hybrid with 60+ cm stems holding numerous deep lilac-purple flowers that are dark in bud.
Flowers darker in bud with a matching central stripe inside the flower when open.
When all the flowers are open it makes for a spectacular display having such an unusual colour range.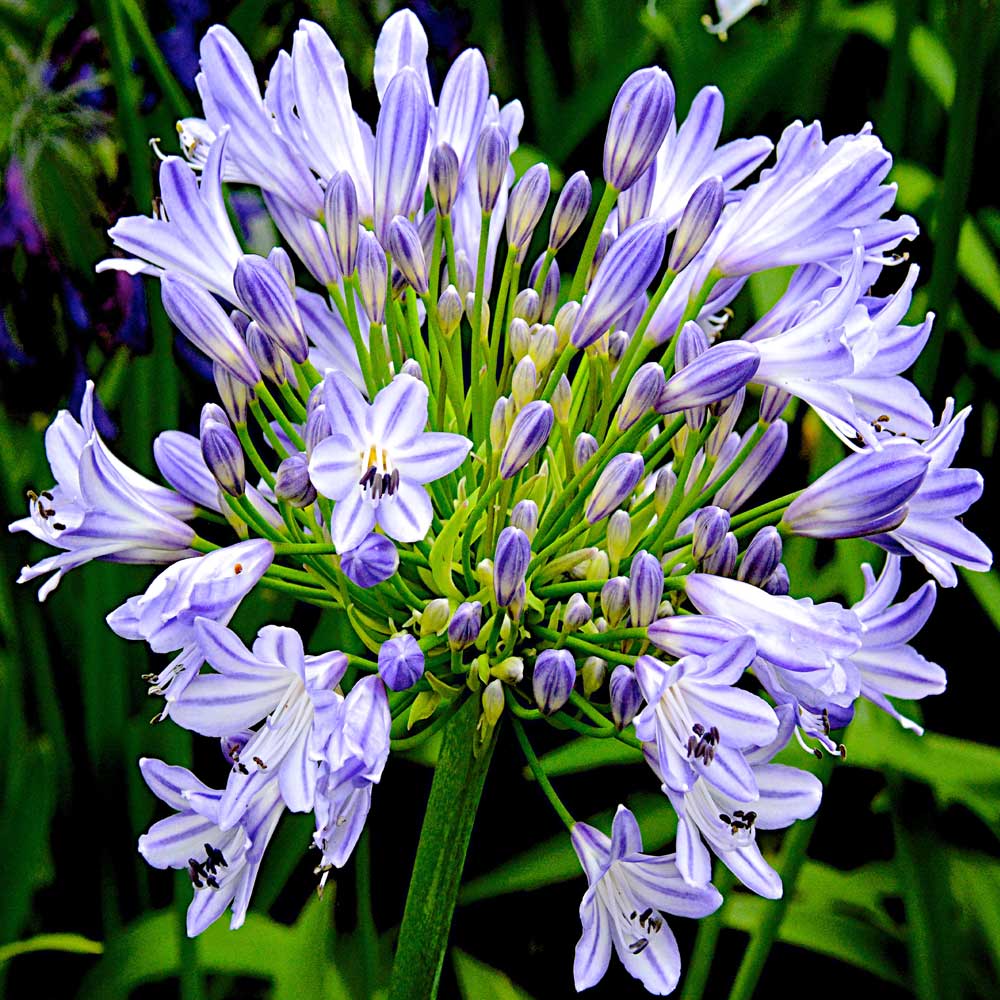 Agapanthus Meghan's Mauve
A wonderful large flowering plant great for pots and borders around 90cm tall.
Flowers are numerous on each spike with unusual shades of lilac to purple, paler inside with a distinct dark stripe.
Large evergreen leaves with flowers forming a very full rounded head, quite a show stopper.
New World Plants Ltd.
White Cottage
Main Street
Styrrup
South Yorkshire
DN11 8NB - UK
Please note we are solely a wholesale supplier and regret that we can only respond to trade enquiries.
PLANT BREEDING AND DEVELOPMENT
Phone: (+44) (0) 1568 611521
email: plant.information@new-worldplants.com
YOUNG PLANT SALES & TC SUPPLY
Phone: (+31) 6 53588940
email: stephen@walterblom.nl