NWP showcased on the World stage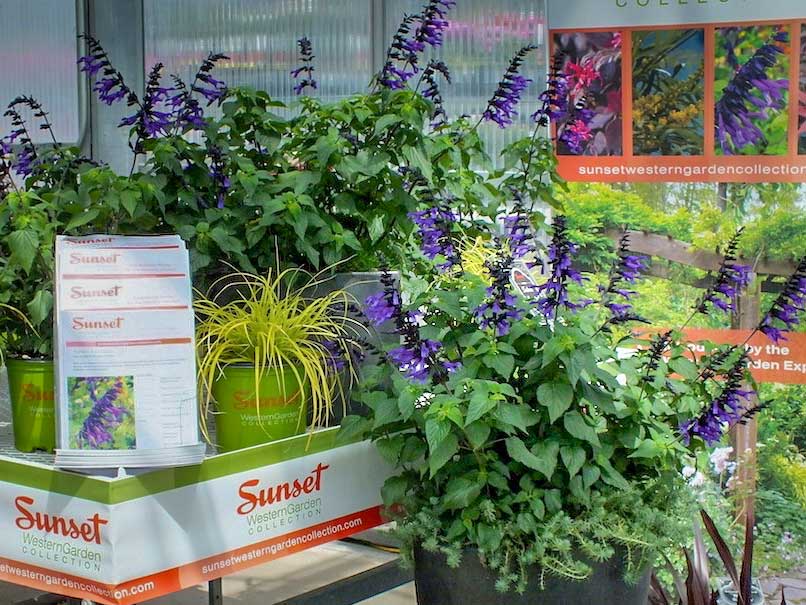 We are very grateful to customers and partners who have showcase our new plants at various commercial exhibitions and plant fairs / trade shows.
Some even make it with special POS. Here's a walk down memory lane of how some of our plants have featured in these environments.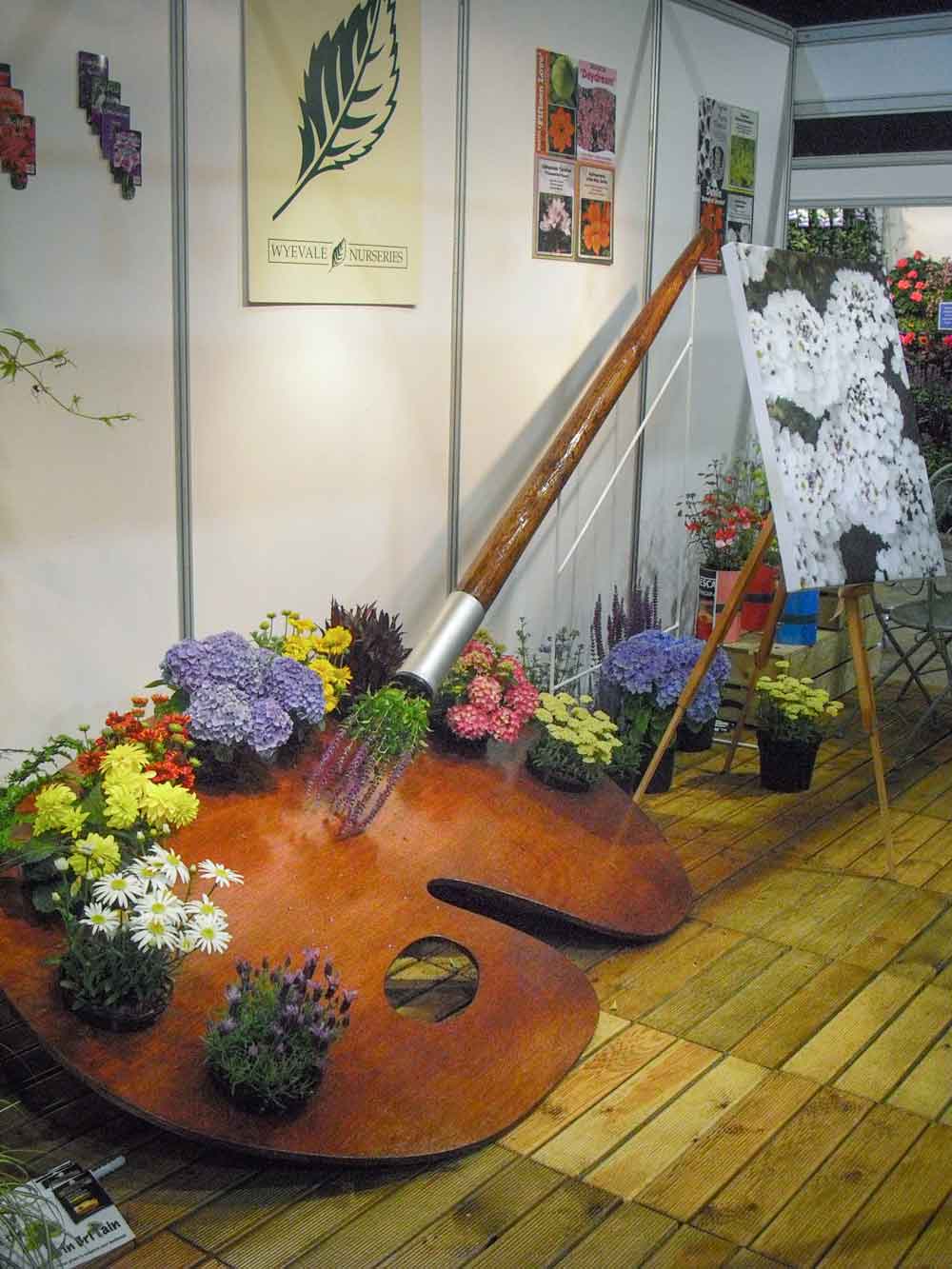 The HTA National Plant Show takes place in mid-June each year at Stoneleigh Park, Coventry.
For 11 years the HTA National Plant Show has impressed with representatives of British Suppliers from across the spectrum including seeds, bulbs and bedding plants through to houseplants, perennials and trees and everything in between.
Supporting UK Horticulture this show enables British growers to show case their new plant varieties as well as displaying current stock for sale in prime colour or topical products. Wyevale nurseries showcased NWP Iberis Masterpiece there in an innovative style.
During the show there is a 'new' plant stand and an opportunity to grab an award for a new variety. If you look at the scoop under 'Plant Awards' you will see that NWP has managed to obtain a number of new plant awards at this show.
Iberis Masterpiece - On display in artist pallet HTA show 2012 ~ Wyevale Nurseries
The Californian Spring Trials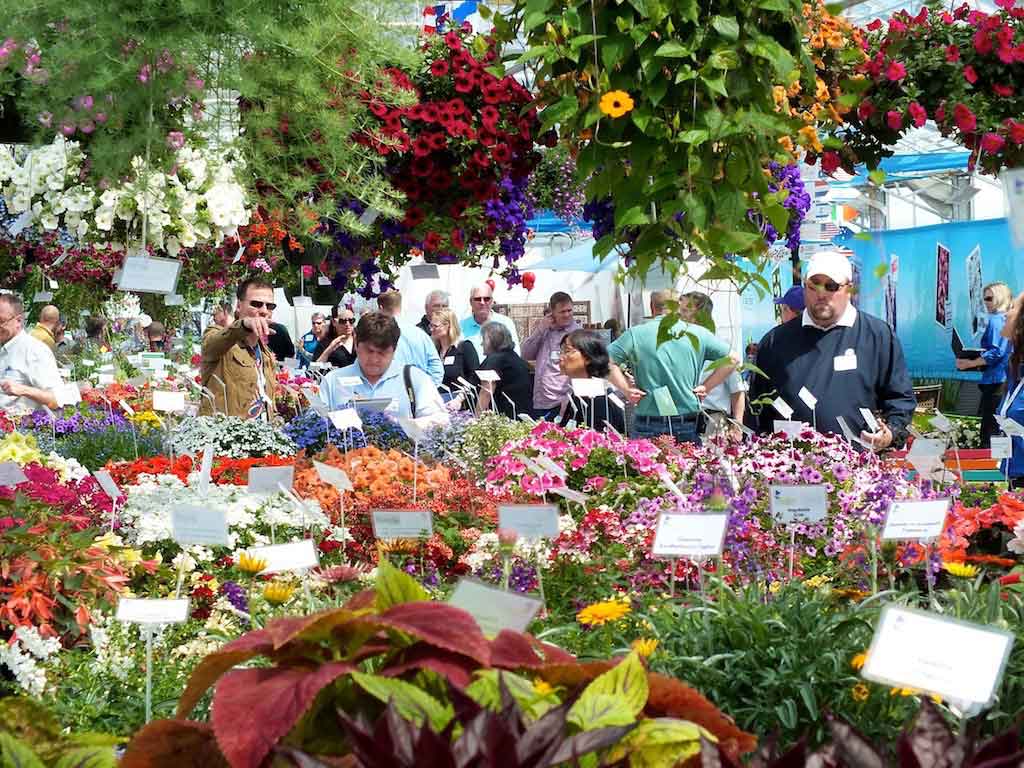 Often referred to as simply the 'Pack Trials'. An annual weeklong event held in the period between March and April. Exclusively for industry professionals at various locations throughout the state. It is not open to the public.
The event is a launching ground for some of the newest plant varieties, signage and packaging products, and merchandising programs and concepts. In addition, many locations include PGR experiments, outdoor trialing, and technical information and help.
Pacific Plug and Liners (PP&L) is one of NWP customers who offer to the American trade many of NWP varieties, and by way of example Masterpiece, Double Whammy, the Cosmic series and Amistad are all good examples where our plants have been fabulously presented in the American market for the first release in that continent.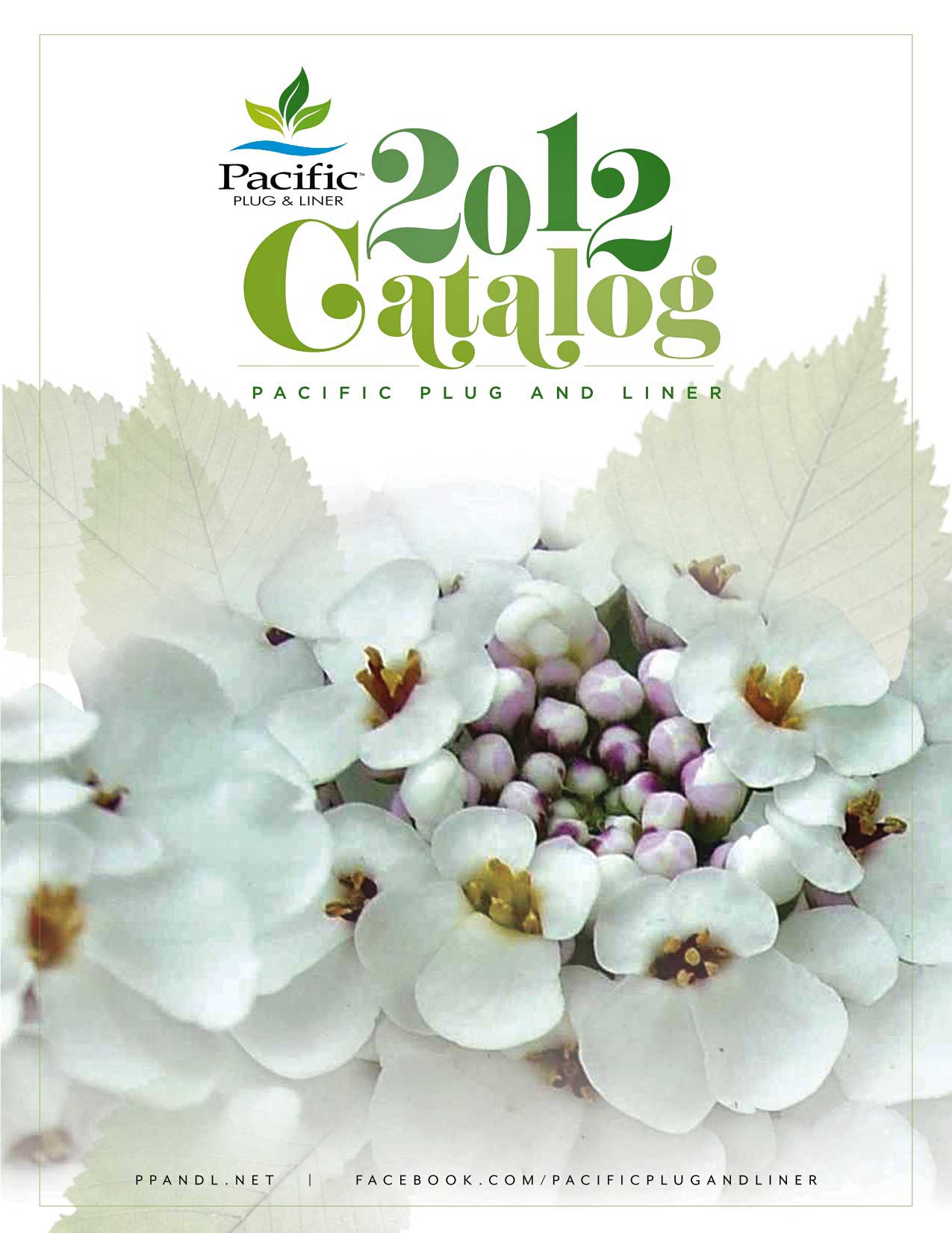 Iberis Masterpiece
2012 Front cover of PP&L catalogue (USA)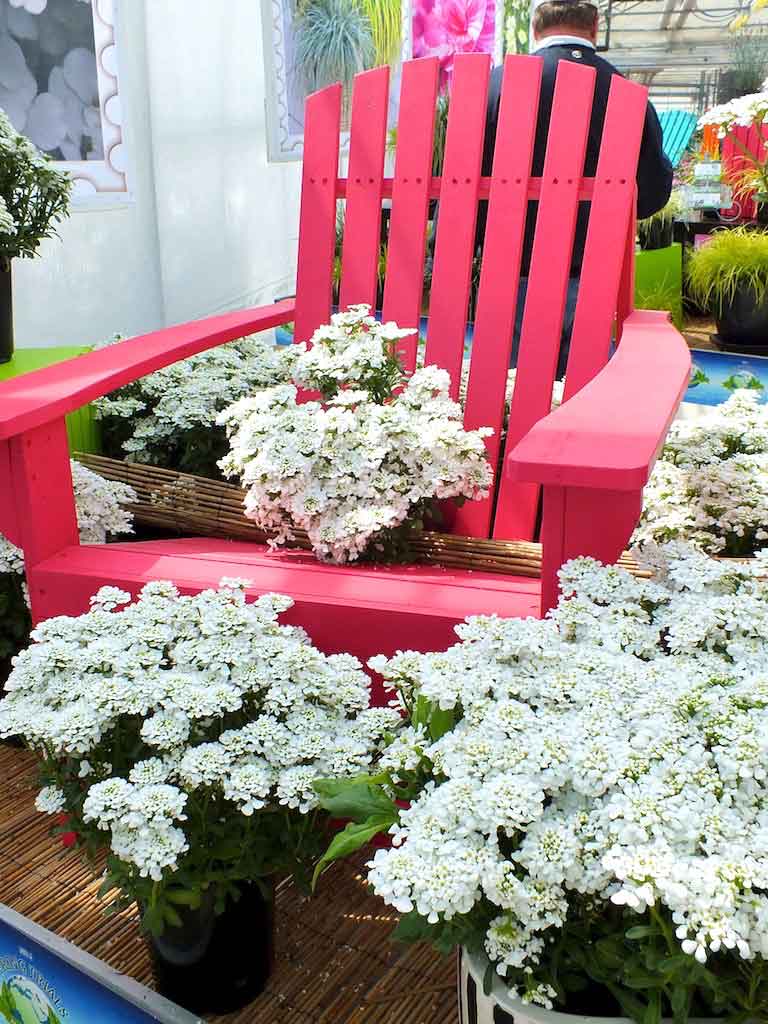 Iberis Masterpiece
Showcased in the Pack Trials in PP&L facility (USA)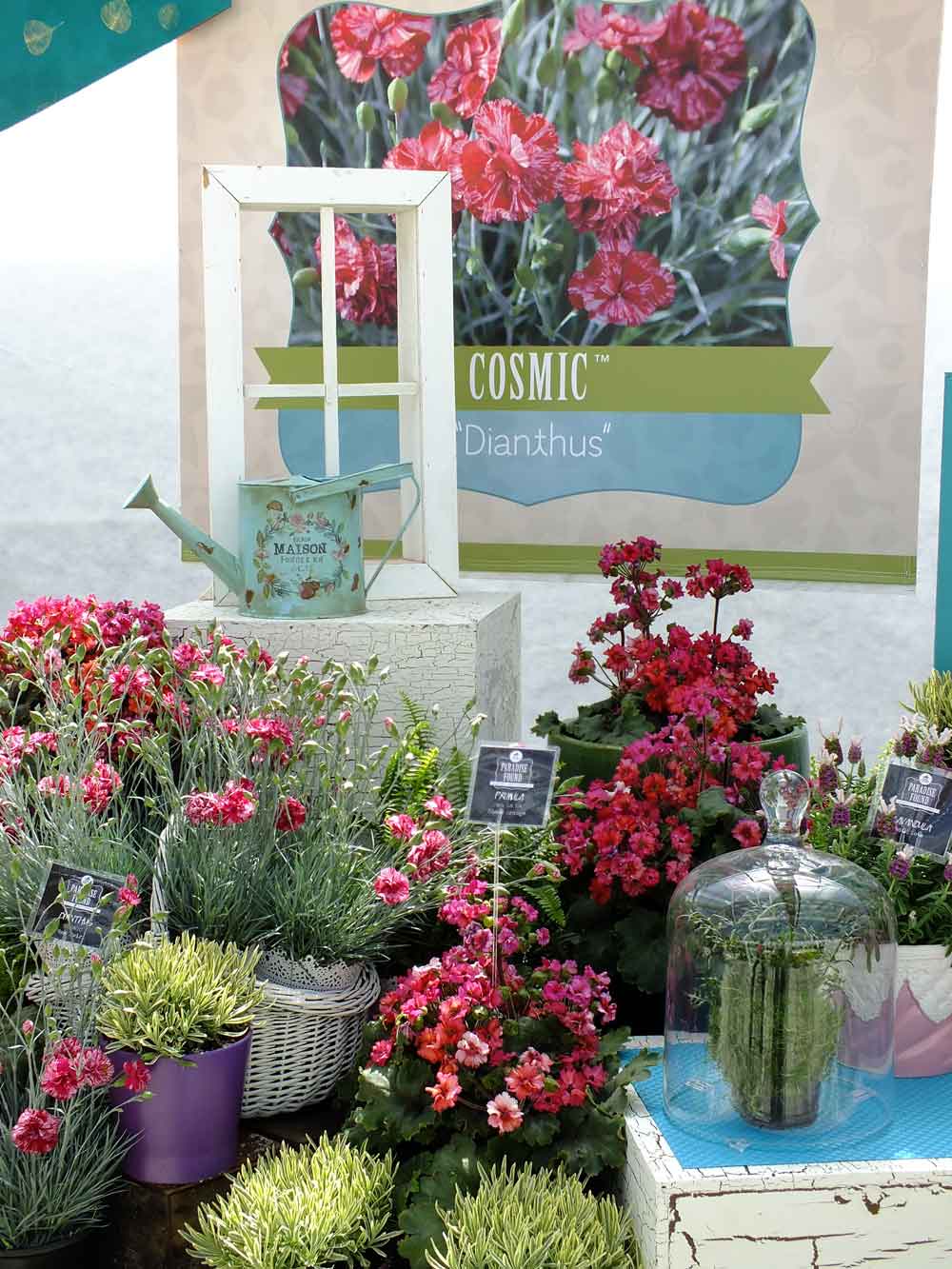 Dianthus 'Cosmic Series'
Both 'Cosmic Pink' and 'Cosmic Red' featured at the 2013 Pack Trials in PP&L facility (USA)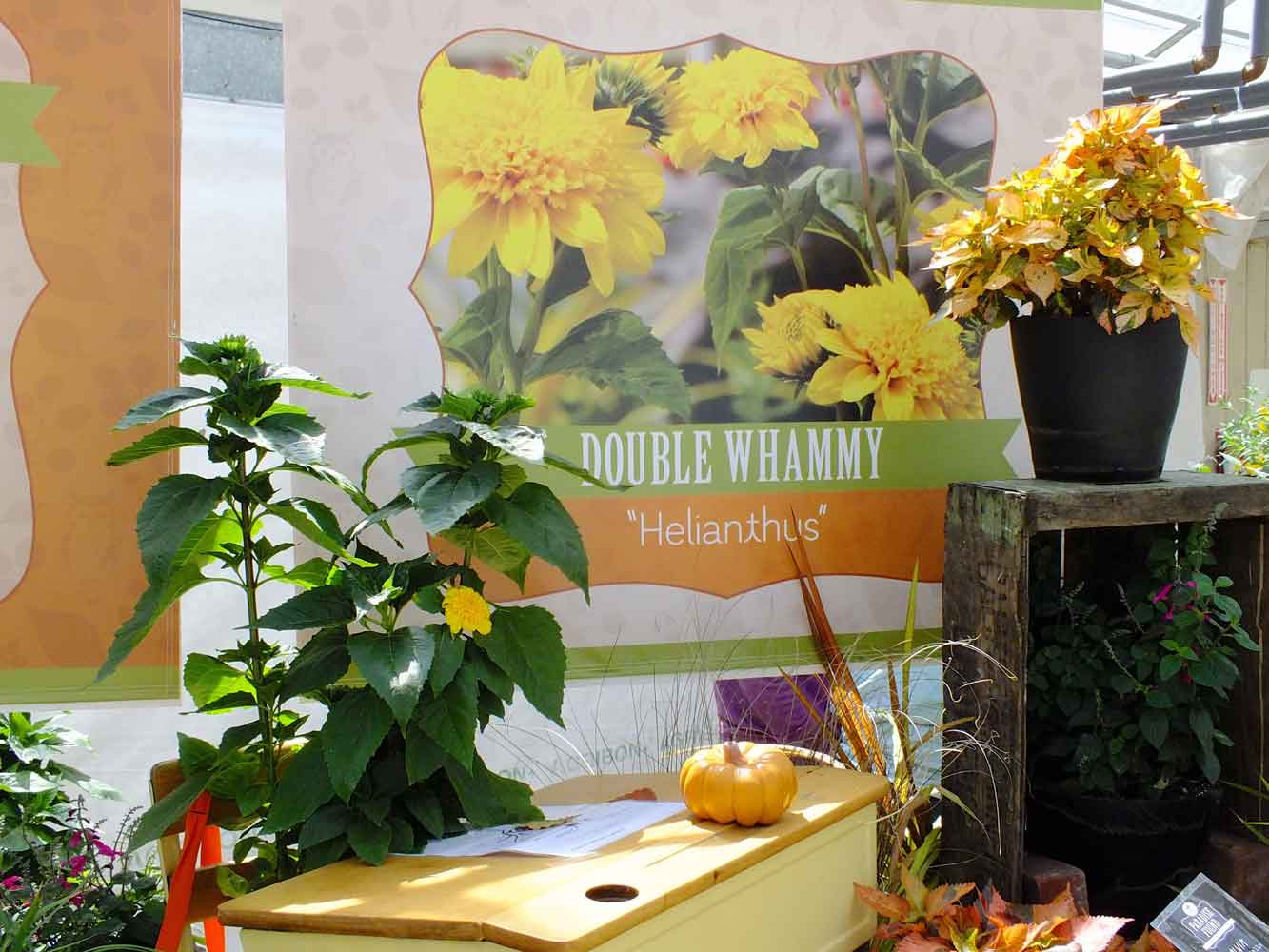 Helianthus 'Double Whammy'
Showcased in the pack 2013 Pack trials in PP&L facility (USA)
Sunset Western Garden Living
Sunset Western Garden Collection, introduced in spring 2013, our new plant Salvia Amistad as a plant specifically aimed for the Western gardener. Sunset® magazine and Plant Development Services collaborated to bring this superior plant introduction to the Californian spring trials in 2013 at the PP&L nursery site.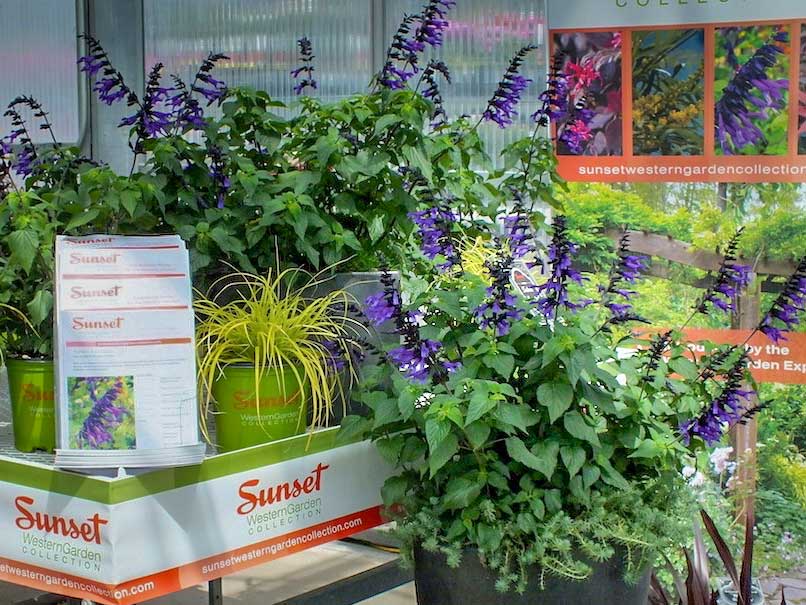 Since 1898, Sunset has been a source of inspiration for those living in the West. Now, with nearly five million monthly readers, and more than 30 million copies of the Sunset Western Garden Book, the name has become synonymous with Western lifestyle. Sunset's experts focus on regional travel destinations, home design, outdoor living, gardening ideas, and recipes that celebrate the best of the West.
Salvia 'Amistad'
Showcased in the Pack Trials in (USA) 2013 by Sunset Western Garden Collection and Southern Living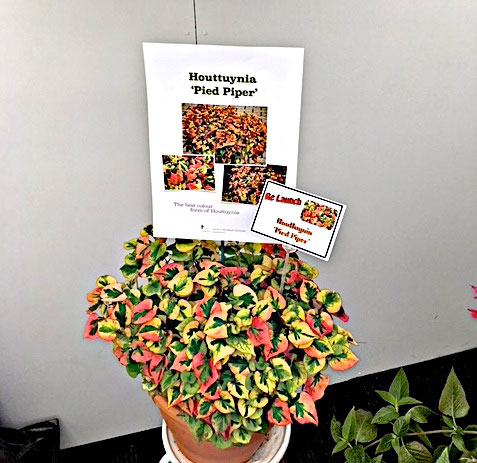 Houttuynia 'Pied Piper'
Featured at Four Oaks show September 2018 showcased by Jaldety Nurseries Israel
A commercial horticultural show which celebrates its 50th year in 2020. The venue is a 23 acre nursery site in Cheshire UK, close to the Jodrell Bank Radio Telescope. The exhibition covers an area of 17,000m² under glass with additional outdoor areas.
The nursery sector, Inc. ornamentals bring young plants, specimens and market ready stock from within the UK and also across Europe. Massive displays of plant material form the heart of the show, with associated supplies and services from production to point-of-sale. Over 35% of participating companies will come from Europe.
The visitor profile which is truly international, includes commercial growers, garden centres and retailers, farm shops, local authorities, landscapers & architects, garden designers and florists. This show is particularly attractive to the grower retailer and the independent garden centres.
Various wholesale nurseries and young plant suppliers have showcased NWP varieties over the years including Salvia Amistad, Helianthus Double Whammy to name but a few. NWP has achieved some awards for its new introductions which you can see under that scoop. In 2018 Jaldety Nurseries show cased our Houttuynia Pied Piper a plant we have had around for a number of years and also Salvia Amante, the new red from of Salvia Amistad.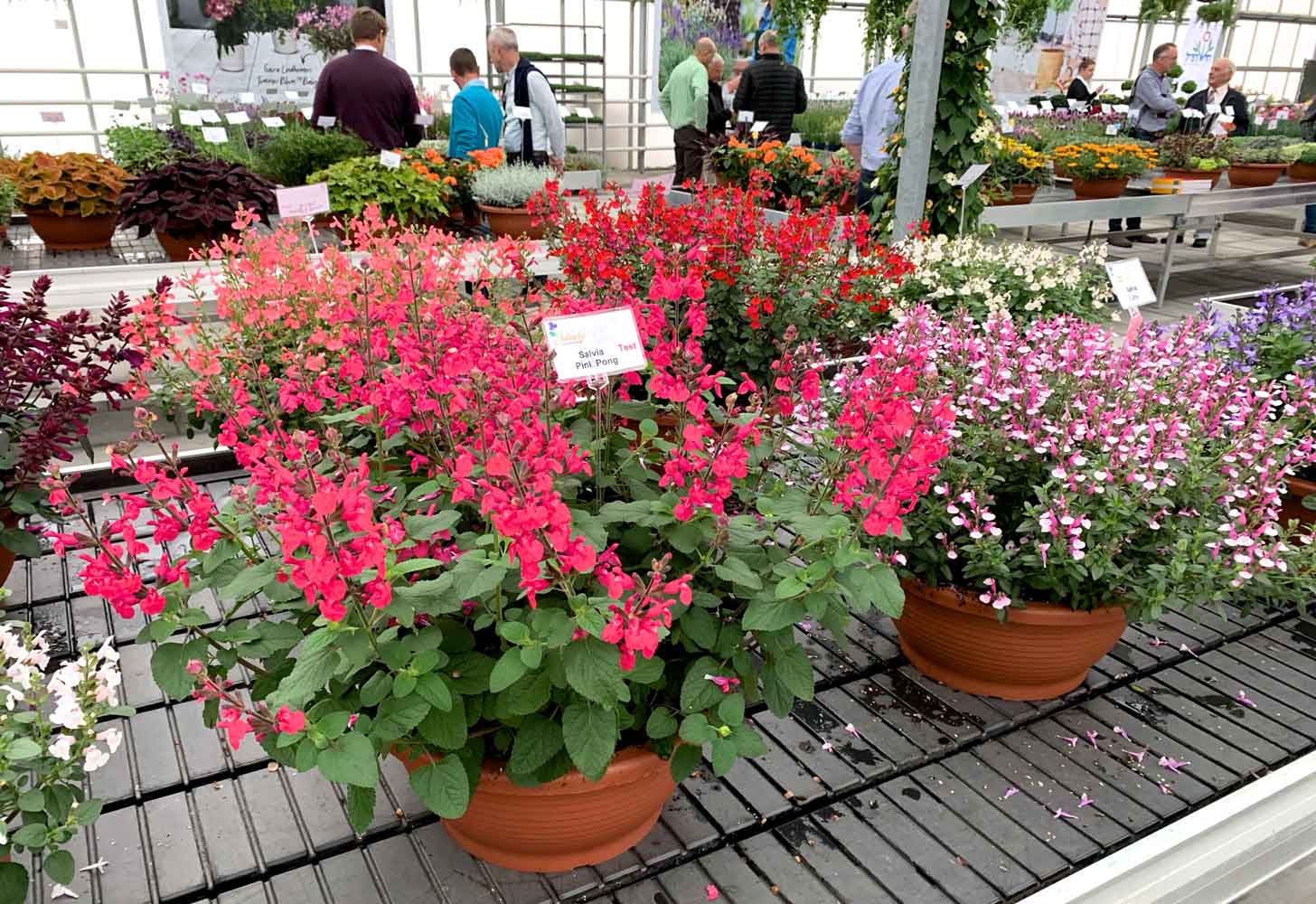 Salvia 'Pink Pong' (& assorted Salvias)
Featured at the Euro Trials Holland June 2019 showcased by Jaldety Nurseries Israel
Often referred to as the 'Euro trials' are held in the Netherlands in mid-June each year. Usually around 62 breeding companies / young plant suppliers in three regions present their latest innovations and future developments in pot and bedding plants as well as Perennials and ornamentals.
Exhibitors come from Europe, Israel, Japan and the U.S.A. to attend and some of these showcase our varieties. From Israel nurseries Cohen, Jaldety and Hishtil often showcase NWP varieties. In 2019 thanks to Jaldety Nurseries our latest novelty Salvia 'Pink Pong' was in full flower and looking fab!
Held in different regions within Holland such as Aalsmeer, and Westland are the very latest innovations in bedding plants, container plants and indoor & outdoor pot plants together with crop information, retail concepts, and inspiration on trends.
Australian Perennial Growers (APG)
Australian Perennial Growers (APG) is an Australian based plant marketing and licensing company located in Arcadia NSW. APG sources and promotes new plant varieties from local and international independent plant breeders providing professional management of their plants within the Australian marketplace.
NWP is one of those partners who has had great success with some of our new introductions. Iberis Masterpiece referred to by its original code name 'Turbo' seems to have gone down a treat and became plant of the year in 2012. Our Agapanthus Radiant Star and Salvia Amistad has an on line promotion in 2013.
Quality assurance and testing of new plant material is carried out in different conditions around Australia before any plant is released onto the market. New plants meet a performance criterion which ensures consumer satisfaction. This guarantees that any plant which has the APG label is a proven performer.
APG growers strive to produce high quality plants and help gardeners create living spaces in their home that stimulate their senses and imagination. APG finds plants that always surprise and create solutions for the home gardener in Australia. NWP has other new varieties on trial currently and we wait to see if there are more successes.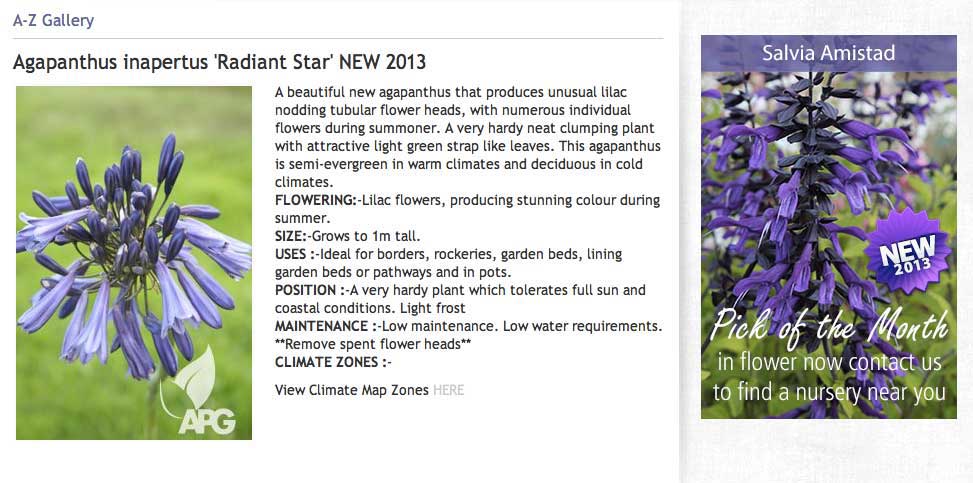 Agapanthus 'Radiant Star' and Salvia 'Amistad'
Has an on-line promotion in 2013 by APG (Australia)
View Scoops by Categories
New World Plants Ltd.
White Cottage
Main Street
Styrrup
South Yorkshire
DN11 8NB - UK
Please note we are solely a wholesale supplier and regret that we can only respond to trade enquiries.
Phone: (+44) (0) 1568 611521
email: plant.information@new-worldplants.com